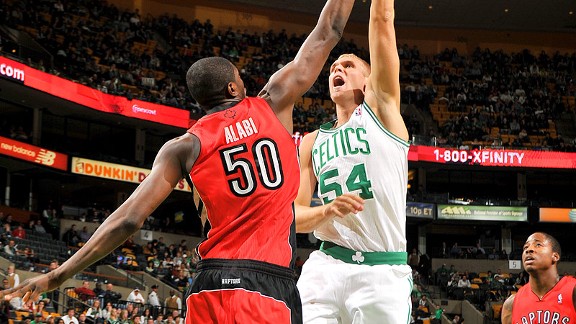 Brian Babineau/NBAE/Getty Images
Celtics center Greg Stiemsma at work versus the Raptors.BOSTON -- In case you're wondering -- and we know you are -- the nickname is "Steamer." At least that's what they called Greg Stiemsma during his time with the NBA Development League's affiliate in Sioux Falls in recent years.
"It's probably the easiest," he shrugged, "then you don't have to try to pronounce my name."
And while Celtics coach Doc Rivers admitted last week to not being able to pronounce it, either, (for the record, it's "steams"-"muh"), you might simply refer to him as an NBA player soon.
Stiemsma, a training camp invite trying to play his way onto the Celtics' regular-season roster, chipped in seven points, five rebounds, and two blocks over 18 minutes in Boston's 81-73 preseason triumph over the Toronto Raptors Wednesday night at TD Garden.
Celtics coach Doc Rivers hinted the team may only keep one invite coming out of camp and Stiemsma is the odds-on favorite given Boston's lack of pure centers. Rivers was effusive in his praise of the well-traveled 26-year-old after Wednesday's game.
"Oh gosh, he's great," said Rivers. "He played great, which is good. It's good to see. It was nice because we played him with some of the starters, which we were trying to do, and you know he blocked shots, he could run the floor, he can make that shot from the elbow -- that was great when he just jacked it. That's what we wanted him to do -- a good showing by him."
Stiemsma has bounced from Turkey to South Korea to South Dakota to Turkey (again) to South Dakota (again) before landing in Boston when the lockout lifted. His size gave him immediate reps with Boston's second team and he's made the most of his opportunities over the past two weeks.
Now he's simply hoping he did enough to stick around.
"I just hope I showed I belong -- that I can play at this level and that I can help this team," said Stiemsma, talking from a chair in the middle of the Celtics' locker room because he doesn't have a locker (not yet, anyway). "Whether it's three- or four-minute stretches or whatever it is, at practice or wherever, I feel like I can step in and help them out."
Stiemsma delighted the crowd (and his teammates) Wednesday with an assortment of moves. Less than a minute after checking in early in the second quarter, Stiemsma produced a little lefty hook in the paint for his first bucket. He added an and-one dunk off a pretty feed from Rajon Rondo a short time later (hanging on the rim for a beat after the whistle), then capped his scoring with a 19-foot jumper later in the frame showcasing his range.
"It's fun to have [the fans] behind you," said Stiemsma. "I know Boston is a great sports town, and they love their Celtics and everybody else. Like I said, [I was] just having fun out there and trying to stick around as long as I can."
And how does he feel about his chances for sticking around?
"We'll see. I'm feeling pretty good right now, but you never know," he said. "You can't get too high, can't get too low. So I'm just doing what I can every day and trying to improve, and hopefully I did that tonight.
"I felt like I came in and showed what I can do. This is about as well as I can play at this time. I still feel like there's a lot of room for improvement but at the same time, I feel like I left everything on the floor. And now whatever's gonna happen is gonna happen."