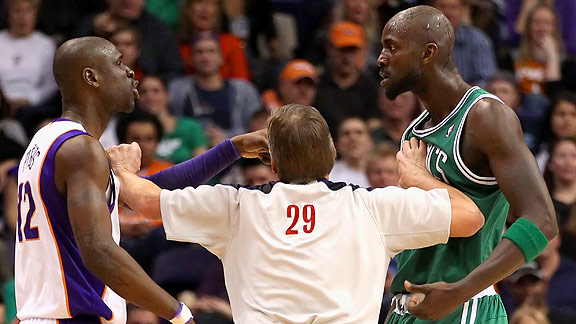 Christian Petersen/Getty Images
Mickael Pietrus and Kevin Garnett had a little dust-up last season.Veteran swingman Mickael Pietrus is positioned to hit the free agent market this weekend after reaching a buyout agreement with the Phoenix Suns on Thursday. Not surprisingly, the Celtics are one team expected to be interested in his services. From ESPN.com's Marc Stein:
The Phoenix Suns have waived veteran swingman Mickael Pietrus after reaching a buyout agreement on Pietrus' $5.3 expiring contract. By forfeiting $1.2 million of his 2011-12 salary, according to the Arizona Republic, Pietrus convinced the Suns to release him outright. That will allow Pietrus to become an unrestricted free agent if he clears waivers in 48 hours.

"Lon and I have been working on this for the past few days," Pietrus' agent, Bill McCandless, told ESPN.com. "We reached a buyout agreement that's fair for Mickael Pietrus and fair for the Suns. I'm sure Mickael will have options (once he clears waivers)."

Pietrus is expected to draw the interest from various playoff teams -- Boston, New York and the Los Angeles Lakers among them -- should he clear waivers.
Back in July, with Pietrus seemingly looking to talk his way out of Phoenix, he suggested to L'Equipe that the Celtics and Lakers would be interested in his services:
"Phoenix didn't use me, but that's their problem. I'm going to continue working. The only thing I care about is winning a title... A lot of teams are interested in me, like the Lakers or the Celtics. This came from the best player in the world: Kobe Bryant. He told me two months ago that he would like to see me with the Lakers."
At the time, we weren't sure Pietrus was a good fit for Boston, especially after the Celtics added Jeff Green at last season's trade deadline. Now? Well, beggars can't be choosers. The Celtics certainly could use some additional wing depth with Green sidelined for the season with a heart ailment and Paul Pierce battling a bruised right heel as the season approaches.
This is exactly the type of situation that highlights why Boston kept an open roster spot coming out of camp. That available 15th spot gives them an immediate chance to pursue Pietrus should he clear waivers. Here's a bit of our analysis from the summer:
The 6-foot-6 Pietrus will turn 30 in October near the (expected) start of the 2011-12 season. His offensive game is pretty simple: Stand in the corner and shoot 3's. Pietrus has chucked better than four 3-pointers per game over the past three seasons and is a 35.9 percent shooter from beyond the arc for his career. That's not too shabby, but he ranked 80th in the NBA in 3-point percentage this past season. He doesn't shoot particularly well from the mid-range and the other half of his offense typically comes at the rim (though he doesn't get to the line with any sort of frequency). According to Synergy Sports stats from last season with Phoenix, 41.3 percent of his offense comes from spot-up shooting and he graded out as merely average, making only 39 of the 114 shots he took (34.2 percent) in that situation. Pietrus thrived off screens, which is intriguing for a Boston squad that generates much of Ray Allen's offense that way (though only 21 of Pietrus' total 250 shot attempts in Phoenix came off screens).

A career defensive rating of 107 suggests that he's an average wing defender (though he's had his moments, like the 103 rating he posted in Orlando's run to the conference finals in 2010). He doesn't rebound much, particularly offensively where he's glued to the stripe. Essentially, he's a 3-point threat who, when he's hot, really forces an opposing defense to pay attention to him. He burnt the Celtics bad during the 2009 playoffs -- three games with 17 points and five of the six in double figures -- but he's had only one NBA season where he averaged more than 10 points per game during the regular season (11.1 points with Golden State in 2006-07). He hasn't topped nine points per game since that 2008-09 season with Orlando. In a way, his production suggests a taller Nate Robinson (at least based on what Robinson did in Boston).
Now it's your turn. Do you think the Celtics should pursue Pietrus? Sound off in the comments.