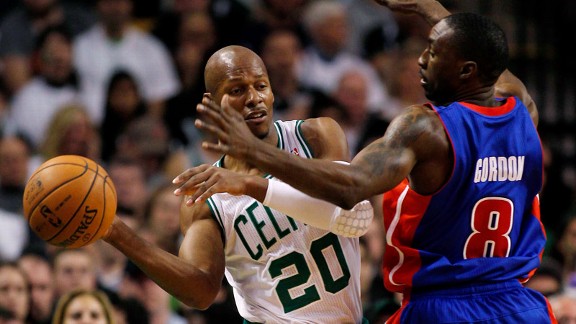 Greg M. Cooper/US Presswire
The Pistons were just what the doctor ordered for the ailing Celtics.BOSTON -- Rapid reaction after the Boston Celtics defeated the Detroit Pistons 96-85 in their home opener Friday night at TD Garden:


HOW THE GAME WAS WON
After three frustrating, foul-plagued games to start the 2011-12 season, Jermaine O'Neal showed why coach Doc Rivers dubbed him the training camp MVP, turning back the clock while registering 19 points (on 7-of-9 shooting) with seven rebounds, two blocks and a plus-27 plus/minus over 28 minutes. Brandon Bass chipped in 17 points (on 7-of-11 shooting) over 21 minutes to headline a bench effort. Paul Pierce added 12 points, five assists and four rebounds over 22 minutes in his first game back after sitting out the start of the season with a bruised right heel.
TURNING POINT
The Pistons hung close through two quarters, but Boston quickly separated in the second half. Ray Allen and Pierce made back-to-back trifectas early in the third frame as the Celtics' seven-point halftime lead ballooned to double digits. The lead at 17 with less than three minutes to play in the quarter, Bass, Marquis Daniels and O'Neal all produced easy buckets at the rim as the lead jumped as high as 25 (the biggest of the night).
STAT OF THE GAME
After turnovers plagued them for much of the start of the season, the Celtics limited their giveaways to 11 (for 18 points) on Friday night. The defense was better overall, too, limiting the Pistons to 43 percent shooting (34-of-79).
UNSUNG HERO
Allen continues to really shine early in the season. The ageless wonder connected on five of nine shots, including a pair of trifectas, while chipping in 17 points.
WHAT IT MEANS
A win! And that's really all that matters for Boston. It wasn't exactly pretty as the Pistons made a fourth-quarter charge that forced Rivers to reinsert some of his starters, keeping the younger players off the court when they could have logged valuable minutes (instead they played some mop-up time late in the game). And the Celtics continue to struggle in allowing points in the paint, giving up 38 on the night. But Boston isn't going for style points right now. The victory snaps a three-game losing streak and gives the team a little momentum before a home-and-home against the Washington Wizards (starting in the nation's capital on Sunday) to usher in the new calendar year.