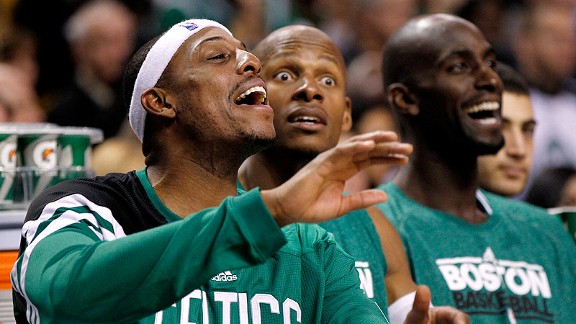 Greg M. Cooper/US Presswire
Paul Pierce's return resulted in smiles all around at the Garden on Friday.The Big Three were able to share some laughs in the fourth quarter thanks in part to a well-rounded effort from Paul Pierce in his 2011-12 season debut:
Choose your antidote: the Detroit Pistons or Paul Pierce.

The Celtics are hoping it's mostly the latter. The Pistons have come and gone and won't return until Feb. 15. Pierce, meanwhile, appeared Friday in his first game of the season after a bone bruise in his heel left him stuck on the sidelines while his team was mired in the muck of an 0-3 start.

Pierce's return coincided with Win No. 1 over a Detroit team that has given new meaning to the old nickname "Bad Boys."

Former Celtics assistant Lawrence Frank's new team is indeed, well, bad. But it also is young and excited about the possibilities former Georgetown big man Greg Monroe and No. 8 draft pick Brandon Knight might represent ... someday.

The Celtics have no time and no patience for "someday." Pierce is acutely aware how loudly (and quickly) the clock is ticking, and he strode into the Garden on Friday night grasping the urgency of posting the first victory of this young, abbreviated and maddeningly cluttered lockout-shortened season.
Hop HERE to read the whole story.