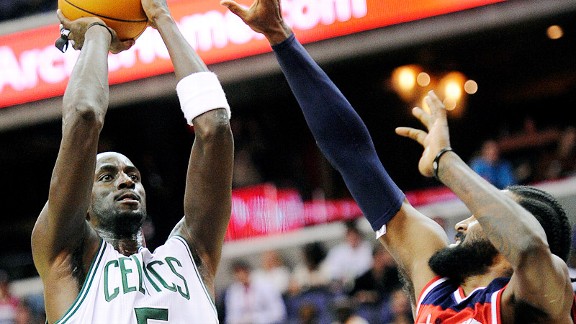 AP Photo/Nick Wass
Kevin Garnett and the Celtics cranked up their defense in D.C.Rapid reaction after the Boston Celtics defeated the Washington Wizards 94-86 Sunday night at the Verizon Center in Washington, D.C.


HOW THE GAME WAS WON
Rajon Rondo and Kevin Garnett turned Sunday's game into a two-man show. Rondo produced his first triple-double of the season with 18 points, 14 assists and 11 rebounds over 33 minutes. Garnett, slow out of the gates this season, put together his finest effort of the year by scoring a game-high 24 points (on 9-of-17 shooting) to go along with 9 rebounds and 3 assists. The Celtics let the Wizards back into the game in the third quarter, thanks in part to the efforts of John Wall (19 points, 8 assists, 7 rebounds) and JaVale McGee (16 points, 14 rebounds), but Rondo and Garnett were enough to fend off Washington's charge.
TURNING POINT
The Celtics built an early double-digit cushion, but the Wizards had that down to seven midway through the second quarter. That's when Boston went on a 17-5 run that helped push the lead to 17 at intermission. Most impressive during that stretch was that the Wizards went nearly seven minutes without a field goal (settling for a quintet of free throws). That's the trademark defense that Boston has showcased in seasons past (and lacked this season).
STAT OF THE GAME
The Wizards shots a mere 28.2 percent (11-for-39) in the first half, aiding Boston in establishing a comfortable enough cushion to hold on. The Wizards made 21 of 39 shots after intermission.
UNSUNG HERO
On a night the bench spread out its contributions (Brandon Bass chipped in a reserve-high 8 points), Greg Stiemsma put together some solid minutes (especially with Chris Wilcox not making the trip because of a left shoulder bruise). Stiemsma kicked in 4 points, 3 rebounds and 3 blocks over 12 minutes. It's not an eye-popping stat line, especially when you consider he was a team-worst minus-11, but the young center continues to show he can handle what's being thrown at him in his first real season in the NBA.
WHAT IT MEANS
Look out, the Celtics are streaking! Despite allowing the Wizards back in the game in the third quarter, Boston leaned on Garnett and Rondo in the final quarter to ensure the victory. Garnett's performance alone is encouraging. The Celtics get another crack at the Wizards on Monday night at TD Garden on the back end of a home-and-home. After the Celtics looked completely gassed against New Orleans, it will be interesting to see how they respond playing their second back-to-back of the season (and their third game in four nights).