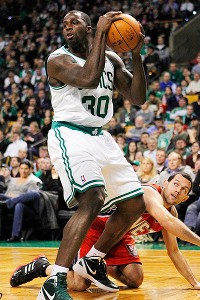 Greg M. Cooper/US Presswire
Brandon Bass and his offense have been huge for Boston early in the season.BOSTON -- Brandon Bass smiled when a reporter informed him he had registered another assist in Wednesday's win over the New Jersey Nets -- his second in as many games.
"Oh, did I?" he asked. "Oh, cool, man."
Bass is an unapologetic scorer and that's exactly the reason Doc Rivers loves having him on this team. The Celtics find the nickname "No Pass" Bass rather endearing and hope he continues to do just that if the results are what they have been early in the 2011-12 season, including a 15-point, 13-rebound effort in an 89-70 triumph over the Nets at TD Garden.
"We told him he was threatening Yinka," Rivers said with a laugh, referencing former Nets center Yinka Dare who registered a mere four assists in 110 games and 1,0002 minutes over a four-year NBA career.
Bass will never be mistaken for Rajon Rondo -- or even fellow power forward Kevin Garnett -- but he has averaged a half assist per game over his six-year NBA career. And Rivers made sure to point out how Bass is finding a comfortable balance between being a no-conscience shooter and an occasional facilitator.
"He's getting it, he really is," Rivers said. "He's moving the ball where he didn't get the assist, but he gets the hockey assist. And he's been doing that. But I don't want him thinking pass too much. Honestly, he's a scorer. You don't want to screw him up. I don't want him passing too much."
Rivers waited a beat then quipped, "He passes to the basket."
Through seven games, Bass is averaging 13.8 points per game while shooting 52.9 percent from the floor. He's been exactly what the Doc ordered for his bench, accounting for much of the reserve offense and operating with a tireless motor (relentlessly chasing second-chance opportunities around the basket).
And better yet, he understands and accepts his role.
"I'm not really a playmaker, that's Paul Pierce, Rondo, [and] Kevin Garnett," Bass said with a shrug. "I pass whenever the opportunity presents itself, I guess. [Rivers] basically tells everybody shoot when they're open. That's what I try to do."
And he's doing it well, all while maintaining a self-deprecating attitude about his shoot-first role (and the nicknames it has spawned). He's done an excellent job making sure the Celtics don't miss his old friend Glen Davis, and he showed Wednesday night he can still have Big Baby-like fun with reporters.
When a small group approached him before he could shuffle off to the showers, he stopped after one of the first questions and joked, "I've never done an interview with no clothes on." Then he politely asked a reporter to repeat his query since he had lost his train of thought.
Welcome to Boston, Brandon. If this production keeps up, you'll be seeing reporters early and often -- clothes or no clothes.