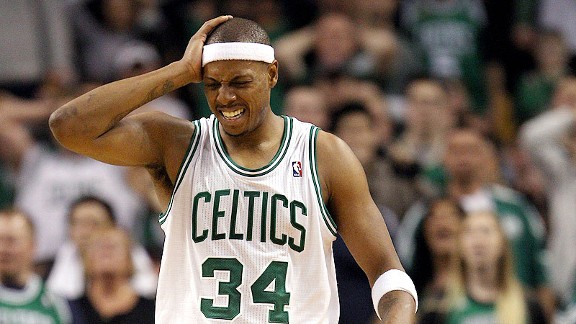 Elsa/Getty Images
Paul Pierce and the C's couldn't knock the cobwebs out vs. Indiana.BOSTON -- Celtics captain Paul Pierce labored through one of his roughest shooting performance of his career Friday night, misfiring on 14 of the 17 shots he put up, including five of six 3-point attempts, and emerged with just 10 points over 37 minutes.
For his 13-year career, Pierce has had only one other game in which he's hoisted at least 17 shots and came out with a lower field goal percentage (April 1, 2001 vs. Charlotte, when he was 3 for 19 with 12 points in a loss). This is only the 10th game in the Big Three era in which he's shot 17.6 percent or worse from the field overall.
"I felt good, it just didn't fall," he shrugged.
Said coach Doc Rivers: "He was human. You know? I thought he tried to do too much off the bounce, especially early. And then I thought he got frustrated a little bit. That's going to happen. But that's where somebody else needed to pick us up, and nobody could. Without Ray [Allen's] shooting today, we would've shot 20 percent."
Since returning from a bruised right heel that kept him out of Boston's first three games (all losses), Pierce has been solid -- save only for a rough night in Washington in his second game back. Over the previous two games, he had been 16-of-32 shooting (50 percent), including 7 of 14 beyond the arc, while averaging 22.5 points per game in wins over the Wizards and Nets.
But Pierce couldn't get anything to fall on Friday, missing eight of the nine shots he hoisted in the first half as the Celtics matched a franchise low with a mere 25 total points.
Maybe more than any other starter, Pierce is looking forward to a four-day break and a couple days of practice before the Celtics play next on Wednesday when the defending NBA champion Dallas Mavericks visit the Garden.
"[The break] will give us a chance to get some good practice time in," said Pierce. "I haven't had any practice this year, so it'll be good for me to get back in and refreshed with some of the things we're doing. Add to our playbook, which we haven't been able to do because of our lack of practice, plus it'll be a good rest for us. We're playing every other day, so get our feet back up under us and regroup and get back on next week."
Despite Boston's 4-4 record, Pierce isn't overly concerned.
"Well, we know it's early in the season and we're trying to strive to get better," he said. "We know we're not at where we want to be, regardless if we won four games straight. It's about building, it's about getting better through the course of the season and we know we're not playing our best basketball, even in the wins. It's going to take some time for us to really get acclimated. With more practice time, maybe add Mickael Pietrus into the mix next week sometime, I think he'll help us out a lot. But we're a long way from where we want to be, but we have plenty of time in the season."