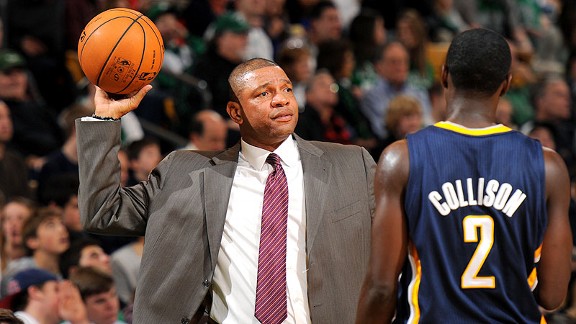 Brian Babineau/NBAE/Getty Images
Doc Rivers sees a lot of the Celtics in the Indiana Pacers.Celtics coach Doc Rivers saw a younger version of his team in the Indiana Pacers, who snapped Boston's four-game winning streak Friday night at TD Garden:
Doc Rivers said it before the game. He repeated it after the game. The Celtics coach looks at the Indiana Pacers and he sees a younger version of the team he took to the NBA's promised land.

"They've done a great job of adding pieces and adding them quickly," Rivers said. "It's amazing to me. It's like watching a young version of us. I know. I hate to say it. But they're young. They're scary. And they're good."

That was before the Pacers went out and overwhelmed the Celtics, 87-74, crushing them on the glass and pulling away down the stretch. You know, sort of what the Celtics have done every now and then to other teams over the last few years.

"They were us," Rivers repeated afterward. "They knocked us off the block. They were the instigator the whole night and all we did was whine and not retaliate."
Hop HERE to read the full story.