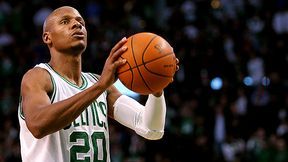 Mark L. Baer/US Presswire
Ray Allen wasn't used to watching from afar when he missed Wednesday's game.BOSTON -- For a player who prides himself on his durability and consistency in playing game after game, watching the Celtics' 89-70 victory over the New Jersey Nets last Wednesday proved to be a unique experience for Ray Allen.
Allen had missed only 16 games total during his four seasons with the Celtics (a handful of which were just rest before the postseason) entering Wednesday's tilt, but a bout with the flu forced him to watch the game on TV from home. With that not being a regular occurrence for Allen, he acknowledged the strangeness of it at times.
Asked if it was odd to watch from his couch, Allen said, "It is because you're watching as a fan and they start talking about you, you know, me, personally. If I'm a fan I'm like, 'Well, where is this guy at?' You think about everybody when you don't play. Somebody pays good money to come out and watch you play and there's somebody disappointed because you don't play, so that's always been like a commitment of mine, to always make sure that I'm out there on the floor every single time."
But Allen was quick to point out a number of positives from his home viewership, specifically a chance to view the Celtics as someone not directly tied to the action.
"It does give you a greater perspective of the team, of the game itself, of the whole outlook of the NBA and how I can be better and how I can help the team be better," Allen said. "It's not always bad when you can look at yourself from the outside looking in."
"Overall, perspective-wise, it helps tremendously for a player to sit back and watch because you have a greater appreciation for what's going on out there and you just say, 'OK, I can see what we look like from afar,'" Allen continued. "Have you ever asked yourself, 'What do I look like right now?' And it's clear and evident because sometimes guys, when they get dressed, they don't look in the mirror before they walk out the door. Just people in general. I think the guilty party will speak up if you feel like you're guilty of not looking in the mirror. But I think that's kind of the perspective that you get from when I see that. It's almost like looking in the mirror. I see these guys playing, at least I can understand and see what they're going through. So when you go through it, you're like, 'OK, what do we look like right now? What do we look like as a group? Is our offense executing, is our defense together? How are we looking?' Because sometimes you don't know."
But watching from home wasn't without its challenges. For a player like Allen, who's a workout fanatic and constantly on the move, being relegated to the couch completely went against his normal routine and habits. What's one to do in a situation like that? Pretend as if one is on the court anyway, of course.
"I like superimposed myself out there and I was looking and seeing how I would look out there and I was like, 'OK, Ray, get yourself going, push yourself, get it going. Get up on your guy,'" Allen explained. "Because any time a guy on your team brings energy into the game, he feeds that energy to the rest of the guys and that's why, if you can do that, you can see it on TV, that energy."
One thing you can't see on TV clearly, though, according to Allen, is the speed of the game at the NBA level.
"I did make that comment to my wife that the game looks so much slower on TV," he said. "For anybody who watches on TV, who's never been to a game live, you've got to go live because it's so much different. It's so much faster, you see the power if you're sitting in the building watching it live than watching it on TV. You don't see all the things that are happening as you see the bodies, everybody's running up and down the floor, you don't really see it."
Knowing there will come a time when his playing days are over, can Allen see himself taking his observations of the game and applying them to a job as a color commentator or analyst? Perhaps.
"I think everybody in this locker room can talk on this game a little bit," Allen said. "It's very interesting to speak on the game of basketball when you have an inside understanding of what's going on in the locker room. All those guys that are on TNT, on NBA TV, it's a natural fit because you know what's being said, what's going on, you've seen it on multiple teams, all the great players [and] great coaches."