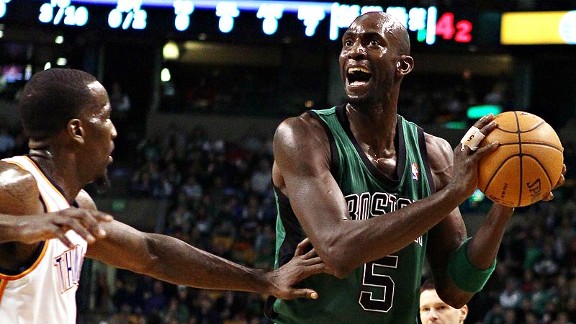 Elsa/Getty Images
Old friend Kendrick Perkins helped slow Kevin Garnett and the Celtics.BOSTON -- Rapid reaction after the Oklahoma City Thunder defeated the Boston Celtics 97-88 Monday night at TD Garden:


GAME IN A PARAGRAPH
Oklahoma City's Kevin Durant (28 points, 7 rebounds, 4 assists) and Russell Westbrook (26 points, 7 rebounds, 4 assists, 3 steals) were thorns in Boston's side, particularly late in the game while fending off a furious Boston charge. Thabo Sefolosha added 19 points on 7-of-9 shooting with 5 rebounds and 4 steals for the Thunder. Paul Pierce scored a team-high 24 points on 8-of-15 shooting, while Kevin Garnett chipped in a double-double (12 points, 12 rebounds) and Rajon Rondo flirted with a triple-double (12 points, 9 rebounds, 9 assists).
TURNING POINT
The Celtics trailed by seven coming out of halftime, but managed to tie the game at 57 with five minutes to play in the third quarter. Perkins produced an old-fashioned, three-point play to ignite Oklahoma City's 15-5 run to close out the frame and completely deflate the still-unable-to-get-over-the-hump Celtics. Turnovers killed the Celtics, including two in the final 81 seconds that led to a Nick Collison layup, a Thabo Sefolosha dunk, and a double-digit lead for the Thunder at the break. Boston rallied to make it a one-possession game on three different occasions over the final seven minutes, but the Celtics could never get over the hump.
PERK'S RETURN
Kendrick Perkins admitted Monday's game would be emotional for him and he might have been a little over-amped, picking up three fouls that limited him to 13 scoreless first-half minutes. The Celtics honored Perkins during the first timeout with a video tribute that culminated with him celebrating with the Larry O'Brien trophy before fading to the simple words, "Thank You, Perk." Perkins finished with 7 points and 5 rebounds over 28 minutes.
J.O. ORDERS A DOUBLE-DOUBLE
Celtics center Jermaine O'Neal achieved a double-double midway through the third quarter, finishing with 12 points on 5-of-11 shooting with 11 rebounds (four offensive), 2 steals, and a block over 24 minutes. It was only his second double-double with Boston, the other coming in a rather meaningless end-of-the-season loss to the Washington Wizards last April (15 points, 13 rebounds over 37 minutes).
A MARQUIS DANIELS SIGHTING
Limited to 55 seconds of floor time since Mickael Pietrus debuted last week, Daniels got some first-half burn and responded by making a pair of layups while chipping in four points and six rebounds over 12 minutes, giving the Celtics a much-needed spark in six first-half minutes. Daniels had missed his previous eight shots entering the game and hadn't made a shot since Jan. 2.
UNSUNG HERO
Pietrus continues to give the team everything he can, chipping in 14 points on 5-of-9 shooting over 21 minutes. He hit some big fourth-quarter 3-pointers to give the Celtics a chance, but it wasn't enough.
WHAT IT MEANS
The Celtics have now lost five straight, the longest losing streak in the new Big Three era. Forgive us if we sound like a broken record, but Boston still hasn't beaten a quality, playoff-caliber opponent (even if this was one of the more encouraging all-around efforts against such a team). It's a familiar script: Boston allows the opponent to build a double-digit lead and expends all of its energy fighting back (multiple times) and comes up short in the end. While Boston struggled to find baskets in the final moments, Oklahoma City had numerous players step up and hit clutch shots. The schedule lightens up a bit with Toronto and Phoenix set for visits later this week (and a trip to Washington -- two of Boston's four wins -- looming Sunday).