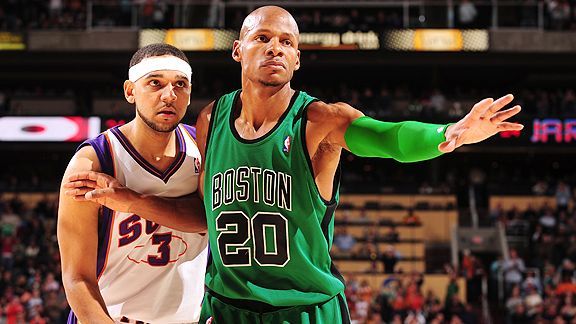 Barry Gossage/NBAE via Getty Images
Ray Allen and the Celtics hope to box out Jared Dudley and the Suns.Riding, as Rajon Rondo quipped, their second longest winning streak of the young season (OK, it's only a one-game streak), the Boston Celtics (5-8, 4-4 home) host the Phoenix Suns (5-9, 2-5 away) on Friday night at TD Garden (7:30 p.m., CSN). Let's preview the matchup with our latest game of 3-on-3 with ESPN Boston's Greg Payne and CelticsHub's Brendan Jackson:
---
1. Assuming Rajon Rondo can't go, what's the likelihood of Avery Bradley and/or E'Twaun Moore being able to contain Steve Nash?

Payne: I think it's fair to say Bradley will have more success on Nash, defensively. And that's no knock on Moore. Bradley's quickness will serve him well in both the open court and in pick-and-roll situations, which Nash will be involved in all night. Containing Nash in pick-and-roll spots will be key to the Celtics' success tonight, and it'll be a group effort. Bradley will have to work, but he'll need help from his big men hedging the right way.
Jackson: "Contain" is such a funny word. Can you really contain a guy that's averaging over 15 points and 10 assists a game this season? The answer is "sort of". I think the combination of Bradley, Moore, Pietrus, and Daniels will do fine limiting Nash to his averages tonight. Furthermore, defending Nash is more about team defense than anything else. While it's been down as of late, the Celtics still know how to play elite team defense. They will need to it put it in practice to defend Nash, specifically in transition and on the pick-and-roll.
Forsberg: Even at 37, the ageless Nash is coming off an effort in which he posted 26 points, 11 assists, and 5 rebounds in a win over the Knicks. Celtics coach Doc Rivers noted Thursday that his two young guards will have to have a "defiant attitude" against Nash. I'm not sure even that will help much. Rivers noted how Nash is going to fill up his stat line one way or another, going so far as to compare him to Michael Jordan. "It's like guarding a Jordan. Jordan made 10 in a row on you and you'd come to the timeout, and you're like, 'I need some help.' And I remember [New York Knicks coaches] Dick Harter and Pat Riley saying, 'You're the help. Go do something about it.' That's the attitude you gotta have."
---
2. Mickael Pietrus is facing his former team. Two questions: Does he have another big night? Can he maintain this fast start with Boston?
Payne: Things didn't seem to end on a very positive note in Phoenix for Mickael Pietrus, so it wouldn't shock me if he was even more motivated to play (and perform at a high level) than usual tonight. In terms of his defense, I think what we've seen so far can and will be continued for the remainder of the season. Pietrus is in complete control of his defensive effort. Offensively, he'll have more good games than bad, but like any other player he'll have those nights where his shot just isn't falling. But he'll be good for a number of big shots for Boston throughout this season.
Jackson: Pietrus should have a big game tonight for two reasons: 1) The Suns don't have any "world beaters" at the two and three spots; and 2) He will get more playing time with the absence of Rondo and Keyon Dooling. The one thing that could hold him back is the fact that he's a known entity to the Suns' defenders given that they were teammates. In terms of his fast start, I think he maintains it because his numbers are not all that far off from his career averages. He's shooting a slightly better percentage from three, but his rebounding numbers are down. Pietrus also says his knee is fine and he hasn't shown otherwise yet.
Forsberg: Pietrus spent just 38 games with Phoenix last season and they helped facilitate his buyout, so I'm guessing there's some bitter feelings, but not too much animosity there. Regardless, going up against a familiar foe and having a little motivation should allow him to keep this little hot streak going. Pietrus has never shot the ball this well from beyond the arc in his career, owning a 40.7 percent mark on 3-pointers through five games. You'd expect that to dip a bit at some point, but Pietrus is getting great looks and making shots. Most impressively, they're coming in clutch situations. If he keeps this up, he'll be an absolute steal considering his defensive intensity.
---
3. Prediction Time! How do you see this one playing out?
Payne: The Celtics will garner their second straight win largely due to the advantage they should have on the glass tonight. Phoenix is one of the worst rebounding teams in the league (the Celtics aren't a whole lot better), and the Celtics should have opportunities to create second chance points and score a host of points in the paint. Locking up Nash will be key, but the C's still have the personnel to do just that. Celtics win by double digits again tonight.
Jackson: The Suns got a tough win in New York on Wednesday while the Celtics got the benefit of resting their starters in the fourth quarter of their game against Toronto. Ultimately, the C's get the edge for having the better squad and home-court advantage. Let's err on the side of optimism and go with Celtics 100, Suns 93.
Forsberg: The idea of not having Rondo on the floor to counter Nash is more than a little daunting, as is the idea of Marcin Gortat against a team still tightening up its interior defense (Remember that Gortat torched the Celtics for two double-doubles last year, including 19 points and 17 rebounds in a January meeting -- one of Boston's most frustrating games of the season and one Doc Rivers got ejected from early on). Regardless, this is still a winnable game for momentum-craving Boston and I think the Celtics find a way to get this one. Just don't expect Gino again.