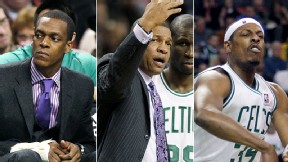 AP Photos
The Rondo-less C's sputtered versus the Suns, doing little to quell the Big Three shake-up talk.ONLY WAY TO HUSH CELTICS TRADE CHATTER IS TO WIN GAMES
For much of the past 48 hours, the Boston Celtics have tried emphatically to squash rampant speculation that the team would trade away part of its Big Three if it can't turn around its early-season struggles.

It's falling on deaf ears. In fact, it's clear now that only one thing is going to stop the rumors: winning games.

That didn't happen Friday night as Rajon Rondo-less Boston dropped its sixth game in seven tries, falling to the visiting Phoenix Suns 79-71, in an offensively anemic battle at TD Garden.

The Celtics are 5-9 and still haven't beaten a team ahead of them in the standings. With nearly a quarter of the season in the rear-view mirror, the Celtics sit third in the Atlantic Division and 10th in the Eastern Conference and have shown little to inspire any sort of confidence.

Consequently, whispers have grown to shouts that the team will entertain the notion of trading the likes of Paul Pierce, Ray Allen and Kevin Garnett if it can't get things right in the near future.

This, even as the general manager, coach and the players plead for patience and suggest that view is merely a doomsday scenario.