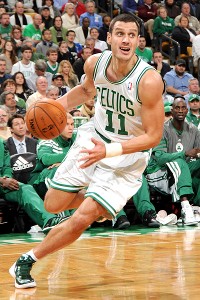 Steve Babineau/NBAE/Getty
Sasha Pavlovic drives to the basket Monday night vs. the Magic.BOSTON -- Sasha Pavlovic showed exactly how funny the NBA can be on Monday night.
Here's a player that didn't get off the bench in eight of Boston's previous 11 games, logging a total of 13 minutes in three appearances. Pavlovic hadn't registered a field goal since Dec. 30 and only one assist and four rebounds since Christmas. A bit of a necessity when Jeff Green's aortic aneurysm was detected and Boston suddenly needed wing depth, Pavlovic had seemingly slipped into an end-of-the-bench abyss.
And, yes, it took injuries to a third of Boston's roster, but Pavlovic got thrust into the starting lineup Monday against the Magic, occupying a didn't-expect-to-see-that backcourt with Avery Bradley. And all Pavlovic did was chip in nine points on 4-of-9 shooting with four rebounds, two blocks, and two steals over 34 minutes. What's more, his defensive intensity aided Boston in limited the Magic to record lows in offensive futility in an 87-56 triumph at TD Garden.
Truth be told, Pavlovic's night could have been even better. A couple more shots should have fallen (and he probably deserved a couple more blocks, getting whistled while swatting Dwight Howard a couple times), but Celtics coach Doc Rivers kept on him, hoping to show what he's capable of when he maintains his confidence.
"Sasha was great," said Rivers. "I got on him one time because he didn't shoot. When he took that next jump shot, the whole team sorta said, 'Please go in.' Because I had just yelled at him to take it, and really, it freed him up [when he made it]. Sasha can shoot. He had just missed one, then he drove and traveled the next time instead of shooting. So he can shoot the ball, it's good.
"Defensively, he's terrific."
When the Celtics are healthy, it's going to be tough for Pavlovic to maintain a consistent role. Ray Allen (ankle) and Mickael Pietrus (shoulder) are ahead of him on the depth chart and provide the more typical scoring at the shooting guard spot.
But with Marquis Daniels inconsistent lately, there's room for Pavlovic to challenge for court time with his defense on the wing. Much like Bradley, he has to think defense first and allow the offense to come through the flow of the game, but he can be an asset.
Pavlovic also has to be healthy. Upended late in the training camp, he tweaked his left non-shooting wrist and gutted through the pain when the Celtics needed him early in the year (he played 61 minutes over the first four games of the season).
Even with a guaranteed, one-year deal, there's no guarantee Pavlovic will be here at season's end. The Celtics could always swallow his contract if they felt the need to upgrade at other spots on the floor. But Pavlovic showed exactly why he's a solid end-of-the-bench player Monday night. Let's see if he can maintain a role even as the injured players start working their way back, maybe as early as Thursday's game in Orlando.