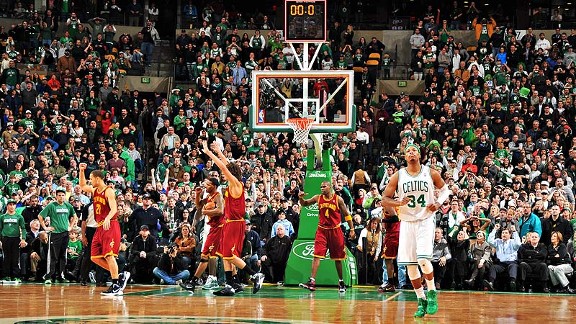 Steve Babineau/NBAE/Getty Images
The Cavaliers celebrate after Paul Pierce can't get off a final shot Sunday.BOSTON -- After the media shuffled away from his locker following a sometimes terse postgame confab with Paul Pierce, the Celtics captain sat at his stall, still in uniform, with head in hands, visibly upset following Cleveland's 88-87 triumph Sunday night at TD Garden.
For Pierce, there was frustration at allowing an 11-point lead to evaporate in the final minutes, frustration at a couple of non-calls down the stretch, frustration at not getting up a final shot before the buzzer, and frustration at watching a four-game losing streak get snapped with a chance for Boston to climb above .500.
And, for Pierce, there also was frustration about a lack of fourth-quarter playing time, the 14th-year veteran openly wondering if things might have been different if he played more than the final 3:42, when the Cavaliers closed on an 8-0 run (part of a 12-0 spurt) and rookie Kyrie Irving's driving layup with 2.6 seconds to go provided the winner.
"Maybe I should play a little bit more, I don't know," Pierce said when questioned about what the Celtics have to do to maintain a fourth-quarter edge.
Asked if he was disappointed in being put back in so late, Pierce snapped, "No comment."
Before anybody starts screaming about player-coach friction and asks whether Pierce was second-guessing Doc Rivers, keep in mind that Pierce soon after admitted the root of his frustration simply was not winning the game.
"I'm more upset with losing, more so than not getting back in," he said. "Certainly I would have liked to have been in there to finish off the game, but the coaches make their decisions. At the time, you can understand when we have an [11-point] lead [with 4:25 to play] to rest the guys. So it's a double-edged sword."
In a way, it was refreshing to see this sort of emotional outburst -- even if it was slightly misguided. For the first month of the season, the Celtics couldn't figure out why they kept losing games. On Sunday, it was painfully obvious: Boston got a little too content in the fourth quarter, fumbled away the ball -- and, ultimately, the game -- by giving Cleveland the momentum. The Cavaliers showed they simply wanted it more when it mattered.
"I think it's difficult when you have kind of turned it off," Rivers said. "[Cleveland is] going to make the effort plays, and I thought that's what happened. We had Paul definitely get fouled, Ray [Allen] misses a layup. We had a lot of things that could have gone right. But to me, I always jokingly talk about the basketball gods. When you don't take care of the game, things come back to haunt you. And I thought it did tonight."
And maybe that's why everyone in the Boston locker room -- not just Pierce -- was upset with the final result. The Celtics are in no position to be coasting after their rocky start to the season and they kicked this one away, turning the ball over four times in the fourth quarter, allowing the Cavaliers to turn six offensive rebounds into eight second-chance points in the final frame and race out of town with the victory.
"We're all kicking ourselves," Allen said. "Everybody's really pissed that we let this game slide."
Added Kevin Garnett, the undisputed king of NBA food analogies, "I could put all types of sprinkles on top of this cupcake -- it hurt."
No team goes through an NBA season without enduring a stomach punch like this. Heck, the Celtics simply got a taste of their own medicine after rallying from a 27-point deficit to stun the Orlando Magic on their home turf on Thursday. They wanted it more that night than the Magic, who seemed all too happy to give it away.
On Sunday, the Cavaliers wanted it more and Boston couldn't get out of its own way.
Which is why this one really ate at Pierce. Asked how things might have been different if he had been in the game earlier, he said, "I wish I was a fortune teller. I don't think this would have been the outcome though."
Or maybe there would have been the same ending. The lead was at seven when Pierce came back. He missed two shots and didn't get a potential winning shot off before the buzzer. He also turned it over once.
No, Pierce, who had carried this team so valiantly over the past two weeks while it won four straight and five of its previous six despite playing without key personnel, will probably realize that he was upset because he was part of the problem. (There's no shame in that considering he chipped in 18 points, 6 rebounds and 5 assists over 35 minutes -- the big blemish on his stat line was seven turnovers.)
For the first time in this stretch, Pierce couldn't put the team on his shoulders and carry it to victory.
There's little the Celtics can do about that now. Boston needs to harness its frustration and turn it into a positive Tuesday night in Cleveland when they get a nearly immediate chance to redeem themselves against the Cavaliers.
As Allen noted in clinging to the only true silver lining, "I'm glad it's not football. You've got to wait a week. We've got to turn it right back around and be ready."