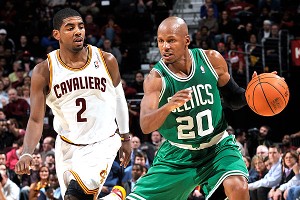 David Liam Kyle/NBAE/Getty Images
Ray Allen and the Celtics managed to stay just in front of the Cavaliers Tuesday.A handful of observations after the Boston Celtics hung on to defeat the Cleveland Cavaliers 93-90 Tuesday night at Quicken Loans Arena:
CRAVING CONSISTENCY
The Celtics are making it incredibly challenging for their supporters to muster much confidence in them at the moment. Just when it seemed safe to climb back on the bandwagon (or shout about how you never left) after the team ripped off four straight wins -- much of it while playing without a trio of starters -- Boston coughed up an 11-point lead in the final four minutes against the Cavaliers on Sunday, then nearly fumbled away a 22-point cushion Tuesday night in Cleveland.
Sure, the Celtics are still waiting to get healthy, and the lack of point guard Rajon Rondo goes a long way towards explaining some of their inconsistencies at both ends of the court. But it's fair to say that Tuesday's win might have been the least encouraging of the season because of the near meltdown -- and that's not exactly an unfamiliar feeling this season.
The Celtics are simply struggling to put together 48 consistent minutes this season. The schedule thus far has been littered with slow starts and sloppy finishes. Players are showing up for portions of the game and disappearing for stretches. Blame the schedule, blame the injuries, blame the officials -- but Boston only has itself to blame for much of its struggles so far.
As coach Doc Rivers is fond of noting, Boston's biggest opponent is itself. If the Celtics go out and execute for 48 minutes, chances are they are going to win, regardless if its the 16-5 Heat or the 4-17 Hornets on the other side of the floor (though, they did lose to both those squads in December). When Boston gets outworked on the glass or sloppy with the ball or stops attacking the basket, the Celtics find a way to let teams hang around long enough to make it interesting.
And that's exactly what's happened twice in this discouraging home-and-home with the Cavaliers. On Tuesday, Boston exploded out of the gates in the second half, turning a 12-point halftime lead into a 22-point cushion with under three minutes to play in the third quarter. But just when it seemed safe to relax, the foot came off the accelerator, Cleveland got some quick confidence, and -- the next thing you know -- it's a two-point game with 1:18 to play.
And this time around Paul Pierce played the final 9:28, checking in with a 14-point lead that still got whittled to a single bucket (though the reserves did little to aid the cause in watching the big cushion erode early in the final frame).
Consistency won't be easy to find in a condensed 66-game season with little practice time. But Boston's No. 1 goal has to be finding a way to prevent these sort of lapses. Clearly, it can't get away with this type of effort against a young team like Cleveland; the Celtics certainly won't get away with it against the East's elite.
SILVER LININGS DEPARTMENT
The Celtics won the game, so it shouldn't be all doom and gloom around here. Let's accentuate some of the positives from Tuesday's triumph over the Cavaliers:
* After allowing a season-high 54 points in the paint in Sunday's loss, the Celtics trimmed Cleveland's around-the-basket damage total to 34 points. Yes, Anderson Varejao was an absolute menace (career-high 10 offensive rebounds while producing 20 points and 20 boards), but Boston decreased Cleveland's production in the paint overall.
* Rookie No. 1 pick Kyrie Irving absolutely torched Boston in the pick-and-roll Sunday, including on the winning drive to the basket. He got going a bit in the fourth quarter Tuesday (13 of his game-high 21 points in the final frame), but Boston clearly made a concerted effort to steer him to his left and at least make things slightly more challenging. Through three quarters, Irving was 2-of-8 shooting for eight points (and despite his offensive outburst in the fourth, he didn't have an assist in the frame).
* Jermaine O'Neal, back in the starting lineup after missing three games with a bone bruise on his left knee, chipped in 12 points on 5-of-7 shooting over 23:15. O'Neal has scolded the media about putting too much stock in his offensive numbers, but he produced a trio of dunks Tuesday -- including a pair back-to-back at one point -- and knocked down the close-range shots that Boston desperately needs him to chip in at times.
* With his shot not falling early on, Kevin Garnett seemed to take himself out of attack mode. Yet, with the game hanging in the balance, the ball went to Garnett isolated on the blocks and he got a turnaround jumper to rattle in with 1:04 to play. That's a big hoop in a big spot for pass-first KG. Brandon Bass also had a pair of clutch jumpers late in the fourth quarter, helping to keep the hard-charging Cavaliers at arm's length. Bass finished 6-of-9 shooting for 13 points, while adding a team-high six rebounds over 28:58.
* Only 14 turnovers for Boston (though nine of them came in the second half, including four in the final frame leading to nine of 17 points off turnovers overall). Even better: only one turnover for Pierce (though four more for Allen)
AND THE NOT-SO SILVER LININGS DEPARTMENT
OK, let's not get too excited. Here's a few more complaints:
* The Boston bench disappeared in the second half with only Bass registering points after the intermission. Chris Wilcox, Mickael Pietrus, E'Twaun Moore, and Sasha Pavlovic were a combined 0-for-4 shooting with zero points, four rebounds (all by Pietrus) and three turnovers in a combined 21 minutes after halftime.
* Marquis Daniels earned an eyebrow-raising DNP (coach's decision) with Rivers leaning on former Cavalier Pavlovic as his swingman of choice behind Allen, Pierce, and Pietrus.
* The Celtics were outrebounded 39-28 overall. The daunting part: Varejao had more second-half boards (13 total, including six offensive) than Boston (10 rebounds overall, two offensive).