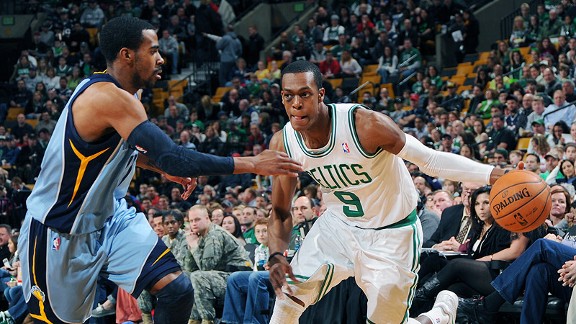 Brian Babineau/NBAE/Getty Images
Rajon Rondo looks to drive Sunday against the Memphis Grizzlies.BOSTON -- Rapid reaction after the Boston Celtics defeated the Memphis Grizzlies 98-80 in a Sunday matinee at TD Garden.


HOW THE GAME WAS WON
Kevin Garnett converted 9-of-12 field goals for a game-high 24 points, while Paul Pierce continues to fill up the stat sheet, registering 21 points, 6 rebounds, 6 assists, and a steal, while finishing plus-28 in plus/minus over 31 minutes. Boston limited Memphis to 36.8 percent shooting (32 of 87 overall) and overcame 20 turnovers (usually fatal against the Grizzlies) to turn this one into a fourth-quarter laugher (even if someone forgot to make Gino dance on the JumboTron).
TURNING POINT
The Grizzlies opened the second quarter on a 16-3 run to turn an eight-point deficit into a five-point lead with 7:10 to go in the first half. The Celtics soon rallied back to tie, but the offense looked a bit stagnant (prompting Celtics radio analyst Cedric Maxwell to rip off his headset at one point and shout, 'Hey guys, shoot the ball!') Allen buried a long jumper, Pierce added a 3-pointer, and Jermaine O'Neal delivered an emphatic two-handed jam to key a 9-1 run to close out the half and Boston led by eight at the break (43-35). Memphis didn't get closer than five (48-43, 8:29 of 3rd) the rest of the way.
BOSTON RUNS ON RONDO
With the early start, you wondered if the Celtics might need some coffee to get going. No, Rondo provided the caffeine. Playing just his second game since returning from a right wrist injury that sidelined him for two weeks, Rondo raced around the court, handing out 10 first-half assists (on 16 Boston field goals) to fuel Boston's early lead. Rondo finished with 14 assists over 34:35.
WILCOX, JOHNSON PICK UP SLACK
With Brandon Bass (sore left knee) missing Sunday's game, reserve big men Chris Wilcox and JaJuan Johnson provided a boost up front. Wilcox registered 10 points and 4 rebounds in the first quarter alone, while Johnson finished with 10 points on 5-of-8 shooting overall.
ANOTHER 3-POINTER FOR KG
After saying the other night that he doesn't "want to become the new Rasheed Wallace of the league," Kevin Garnett buried his third 3-pointer in as many games with a third-quarter triple against the Grizzlies. "We got enough guys around here that shoot 3's, I don't want to get confident with that," Garnett said after Friday's win. So much for that.
WHAT IT MEANS
For the third time this season, the Celtics own a season-high four-game winning streak. They'll look to extend it Tuesday night when this five-game homestand continues with a visit from the Charlotte Bobcats. The Celtics are playing inspired ball at the moment and getting contributions throughout their lineup even as injuries like the knee ailment that kept Bass out Sunday crop up. Boston can surely benefit from the depth its breeding, particularly in this game-heavy season when all 15 members of the roster will be called upon at times to contribute. Now go watch some football.