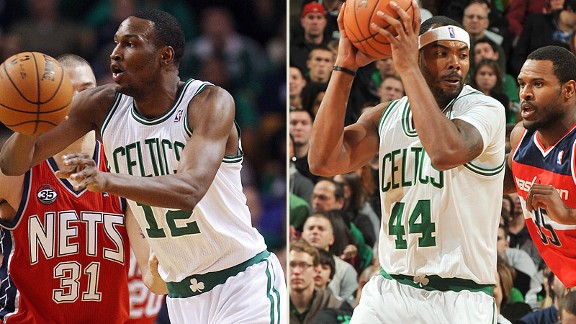 Getty Images
JaJuan Johnson (left) and Chris Wilcox (right) came up big against Memphis.BOSTON -- Celtics coach Doc Rivers will never wish to see Brandon Bass out of the lineup with an injury, but if Sunday's 98-80 thrashing of the Memphis Grizzlies is any indication, he at least knows his team still can excel with the guys behind Bass on the depth chart.
With his top reserve on the shelf Sunday battling left knee soreness, Rivers put his faith in Chris Wilcox and rookie JaJuan Johnson, and the duo responded, combining for 22 points and nine rebounds over a combined 33 minutes of action (just over Bass' season average).
Wilcox picked up where he left off on Friday night, when he put in six points, grabbed four rebounds, and helped turn the tide of the Celtics' 91-89 win over the Knicks with a host of energy plays. That same hustle was on display Sunday, particularly in the first quarter, when Wilcox scored 10 points in just more than six minutes of action -- all of them coming without a designed play. Wilcox ran the floor, pounded the offensive glass, and converted open looks, easily outpacing and outworking his Memphis counterparts.
"In the last three games, [Wilcox] has been absolutely off the charts," Rivers said. "Terrific with his energy. A lot of guys did a lot of good things against New York, but I thought Wilcox was the reason we won that game, with his play. He's just doing all the right things."
It's not an accident, either. After battling various injuries over the first few weeks of the season, Wilcox has finally been able to tailor his game to being something of a spark plug for Boston.
"I wanted to pick up where I left off, just go out there, have fun and just play hard, and that's what I did," Wilcox said. "I went out there and played hard and we got a 'W.'"
Wilcox hit all four of his field goal attempts in the opening quarter, with the highlight being a one-handed dunk off a feed from Rajon Rondo in transition. After Jermaine O'Neal swatted a shot on the other end, Wilcox put his head down and motored up the floor, and was rewarded with the pass from Rondo.
"I just wanted to come out and be aggressive and bring energy, and that's what I did," Wilcox said. "I went out there, played hard, brought some energy, and then just made it light on the second unit."
Wilcox finished with 12 points and five rebounds in less than 12 minutes of action. Given how well he impacted the game, his minute total might seem low, but he had some unofficial competition in Johnson, who played a career-high 22 minutes and was given longer stretches of floor time, mainly because of how productive he was on both sides of the ball.
Johnson tallied 10 points, 4 rebounds and 2 blocked shots, playing with a sense of poise and confidence that some thought might not be there, given his overall lack of playing time this season. But when he checked in with just more than two minutes remaining in the first quarter, he went right to work, grabbing an offensive rebound, and followed it up shortly after with a layup on the right side off a feed from Paul Pierce.
Johnson admitted his nerves flared a bit when Rivers first told him to check in, but any jitters quickly dissipated after a few trips up and down the floor. Following his first stint of important minutes in a Celtics uniform, Johnson received nothing but praise from his coach and his teammates.
"JaJuan's playing great," Rivers said. "You know, he's just active and athletic. He's just active and he trusts his shot. And that's good for us too."
Added Pierce: "I always talk to the younger guys and always tell them to be ready because it's a long season and your number's going to eventually get called at some point or another. And you have to be ready. And [Johnson]'s shown that he's getting better throughout the course of the year and staying ready, and it showed tonight how comfortable he was. He's learning the plays, he's learning the system, and he really looked good tonight."
When word trickled down that Bass would be out, Johnson had an inkling that he might see more time, and after reminding himself game after game to stay ready, his patience finally paid off.
"You've just got to be ready when your name's called," Johnson said. "They always tell you, 'Just be ready. Be ready.' Obviously it's a long season. Anything can happen. It's like you're an injury away from playing, so you've always got to be mentally sharp, ready to play."
Like Wilcox, Johnson's energy crippled the Grizzlies as much as anything. He scrambled on defense, swatting two shots in the process, and ran the floor hard, which opened things up for his other teammates and created pivotal transition opportunities. With Rondo dishing out assists left and right, Johnson wanted to be on the receiving end of one, and the pair nearly connected on a fastbreak alley-oop that would have blown the roof off the Garden. Alas, the pass was a bit too high for even the athletic and lengthy Johnson.
"Oh, man, I'm just happy he threw it," Johnson said. "It's kind of cool. Hopefully I can see more of those because I'll continue to run, and I know he'll continue to throw it, so I know we'll definitely connect sooner or later."
As the game went on, Johnson blended into its flow, allowing his instincts to drive him as much as anything else. From the free throw line, he fed Garnett a slick slip pass for an easy dunk inside, he worked on finding a balance between guarding his own man and making himself available for help defense, and he never faltered when faced with a good look at the basket.
"[The veterans] encourage me to shoot the ball," Johnson said. "They make it easy for you when you play. They always communicate with you, they're telling you, pretty much, everything what to do, so you've just got to go out and execute. It helps me to have a point guard like Rondo and veterans that can kind of just walk you through everything."