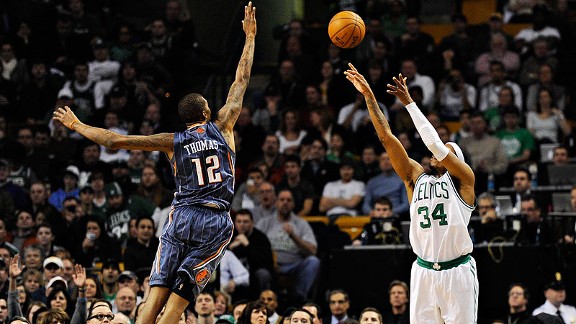 Bob DeChiara/US Presswire
Paul Pierce leapfrogged Larry Bird in the C's record book as part of Tuesday's win.BOSTON -- Rapid reaction after the Boston Celtics defeated the Charlotte Bobcats 94-84 Tuesday night at TD Garden:


HOW THE GAME WAS WON
Paul Pierce didn't just shuffle past Larry Bird into second place on the Celtics' all-time leading scorer list, he flirted with a triple-double in registering 15 points, 8 rebounds and 9 assists over nearly 37 minutes, finishing plus-26 in plus/minus to propel Boston. Kevin Garnett produced 10-of-15 shooting for a team-high 22 points to go along with seven rebounds over 26:37. Rajon Rondo kicked in a double-double (10 points, 14 assists), while Ray Allen (17 points) and Brandon Bass (13 points) dabbled in double figures.
PIERCE'S MILESTONE MOMENT
Pierce leapfrogged Larry Legend with a 3-pointer from the right wing with 10:23 to go in the third quarter. For more on the moment, including footage of the team's video tribute, hop HERE.
TURNING POINT
Right after Pierce's moment, the Bobcats still were within four points. Things didn't stay close very long. Garnett buried a signature 22-footer, Pierce added a fast-break layup and Allen followed with a 3-pointer -- all in a 1:17 span -- as Boston pushed its lead to 11 (59-48) with 6:43 to go in the frame.
KG MISSES A 3-POINTER!
After his hilarious rant following Sunday's game about his 3-point shooting prowess -- this on the heels of making three trifectas in three games -- Garnett finally misfired on a triple Tuesday night, missing from the top of the arc on a second-quarter attempt.
WHAT IT MEANS
The Celtics own a season-high five-game winning streak and have won nine of their last 10 overall. A nationally televised showdown looms Thursday night when the rival Los Angeles Lakers visit the Garden to cap a five-game homestand. Boston didn't play its most inspired ball Tuesday, but the three-win Bobcats weren't likely to pull that out of them. Bottom line: They got the win, Pierce got his milestone and that's all the Celtics could ask for.