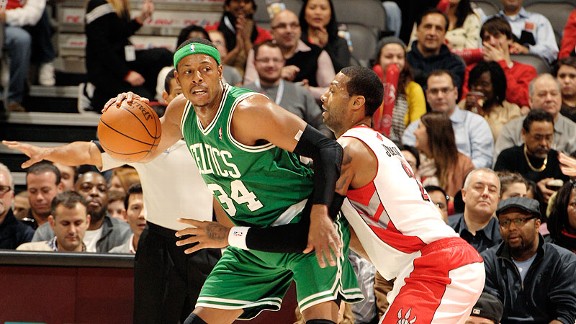 Ron Turenne/Getty Images
Paul Pierce and the Celtics simply didn't have it on the second night of a back-to-back.Rapid reaction after the Toronto Raptors defeated the Boston Celtics 86-74 Friday night at the Air Canada Centre:


HOW THE GAME WAS WON
The Celtics made DeMar DeRozan (game-high 21 points) and Jose Calderon (17 points, 14 assists) look like All-Stars, the duo aiding the Raptors in building a comfortable first-quarter cushion and they never looked back. Toronto led from start to finish in what might go down as its biggest win of the season, earning payback for two lopsided defeats in Boston earlier this season. Kevin Garnett paced the Celtics with 17 points on 6-of-9 shooting (could have used some of that Thursday night) with eight rebounds over 28:44 and was the only Boston starter that finished in the positive in plus/minus (+8). Boston's backcourt of Ray Allen and Rajon Rondo combined for a mere 11 points.
TURNING POINT
It was over when it started. The Raptors won the tip, DeRozan got a bucket 15 seconds in and Toronto never trailed. The Celtics came out with zero energy, didn't generate a field goal for more than four minutes, turned the ball over recklessly and allowed the Raptors to build a double-digit cushion midway through the first quarter. An enraged Doc Rivers lit into his lifeless team during a first-quarter timeout, but even that wasn't enough to turn them around. The Celtics trailed by 12 at the end of the first frame (26-14) and rarely got close again (and when they did, Toronto stretched its lead back out).
NORTH OF THE BORDER, HEALTH GOES SOUTH
Starting center Jermaine O'Neal sat out with left shoulder soreness, while reserve guards Keyon Dooling (hip) and Sasha Pavlovic (wrist) remained inactive. Rivers had said that Avery Bradley (right shoulder) wouldn't play, but needed his energy so badly that the second-year guard logged 7:27 and nearly did inject some life into Boston early on.
WHAT IT MEANS
Just a cringeworthy loss all around. The Celtics (14-12) shot themselves in the foot so often Thursday night in falling to the Lakers it seemed like there was no way they wouldn't atone against an inferior opponent, even if it was the second night of a back-to-back. Nope, Boston again just seemed disinterested and disjointed. After winning five in a row and nine of 10 overall, rebuilding optimism around the team, the Celtics have now lost two straight with a daunting Sunday visit from the Chicago Bulls looming. Boston needs to shake the cobwebs and get back to what it was doing so well in recent weeks as it's been some ugly basketball the last two nights.