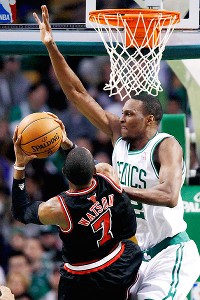 AP Photo/Michael Dwyer
Celtics rookie JaJuan Johnson.Unfazed by a bit of a public tongue-lashing, Celtics rookie JaJuan Johnson showed mental toughness beyond his years by bouncing back Sunday against Chicago:
Maybe if it was the first time in JaJuan Johnson's basketball career that a coach had screamed at him, it would have been more remarkable. Heck, the Boston Celtics veterans and assistant coaches nearby seemed more startled by coach Doc Rivers' sideline outburst Friday night in Toronto than Johnson, who simply took his medicine and trudged back onto the floor.

"I wouldn't expect it any other way," shrugged Johnson, whose soft voice seems as though it could never reach the volume Rivers displayed that night.

"Throughout my whole basketball career, I've always had a coach that was tough on me," Johnson said. "I like it. It does nothing but motivate me. I know some people, when they get yelled at or things like that, they kind of get down. It makes me focus a little bit more, just get locked in. I have no problem with a coach yelling at me or telling me different things. It does nothing but help."
Hop HERE to read the full story.