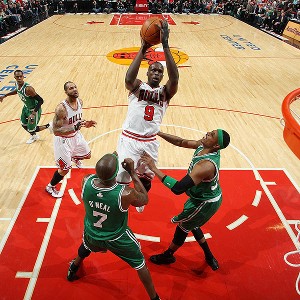 Gary Dineen/NBAE via Getty Images
The Celtics tried to force Chicago to shoot jumpres Thursday by switching to a zone defense.To the surprise of many -- old friend Tony Allen included -- the Boston Celtics have resorted to employing a zone defense at times this season, most recently during the second half of Thursday's loss to the Chicago Bulls.
The Celtics had some success with the zone earlier in the season while rallying back from a large deficit against the Miami Heat. Despite practicing it fairly regularly, the team hasn't leaned on it too much (only 3.9 percent of its total defensive plays, according to Synergy Sports), but utilized it again versus the Bulls in hopes of changing the pace of the game.
It worked for a stretch as the Celtics clawed their way back from a 16-point, third-quarter deficit to take a fourth-quarter lead. But Chicago eventually figured it out and emerged with the win. Even still, don't be surprised to see the Celtics continue to go with zone looks this season, though Celtics coach Doc Rivers admits the team needs more practice with it.
"I'll tell you, zone is hard, it really is," said Rivers. "The thing you gotta convince your players is that zone is like man. You can't think it's the high school zone, where you just stand still and point, because guys will torch you. I thought we had a couple possessions [against Chicago] where we had a couple guys, and it only takes but one, to be in that [point mode]. You gotta buy into it and I think our guys are starting to."
Rivers said the team often works on it during practices and shootarounds, but admits that employing it at game speed is far more daunting.
"We do it in shootaround, but shootaround are what they are," said Rivers. "You're practicing zone against guys that look at half-speed and half of them can't shoot. And that's what makes it so difficult. But you have no choice. This is one of those seasons where you're not going to practice anything."
So let's bottom line it: Is the zone working?
The Celtics are allowing 0.814 points per play in man defense, second best in the league, according to Synergy Sports data. Against the zone, Boston is allowing a still-respectable 0.843 points per play, which ranks ninth in the league. One difference: Teams are shooting a mere 37.4 percent against Boston's zone defense (as opposed to 39.7 percent in man). That seems to suggest that, by going to zone looks, the Celtics are hoping that teams will get complacent and settle for jumpers. That seems to be working as Synergy data shows that teams are scoring a mere 35.3 percent of the time against zone versus 39.6 percent against man.
At the very least, it's taking time for opponents to adapt to the zone look.
"Our zone got us back in the game," Rivers said after Thursday's loss in Chicago. "And then, the one thing with our league, if you stay in zone too long, eventually they're going to find some holes and I thought they did that. I thought they did it with their cuts, they just kept cutting and cutting... and finally got some holes open. Our communication broke down a little bit on that."