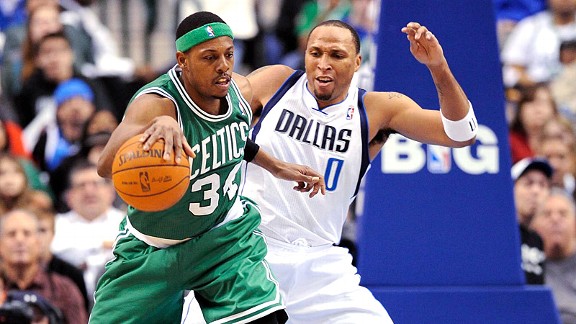 Jerome Miron/US Presswire
Paul Pierce and the Celtics continued their recent stumble in Dallas on Monday.Rapid reaction after the Dallas Mavericks defeated the Boston Celtics 89-73 Monday night at American Airlines Center.


HOW THE GAME WAS LOST
Playing shorthanded without Kevin Garnett (family issue), Rajon Rondo (suspension), and Brandon Bass (knee), the offensively anemic Celtics fell victim to some familiar recent woes (turning the ball over 17 times; allowing 13 offensive rebounds; and shooting a mere 39.2 percent from the floor) while dropping their fourth in a row (sixth in seven games) and falling to 15-16 on the season. Sure, the Celtics lost both Jermaine O'Neal (wrist) and Chris Wilcox (adductor) along the way, but they were already facing a double-digit deficit by that point. Paul Pierce chipped in a team-high 20 points over 33:16, but was a team-worst minus-27 in plus/minus and couldn't elevate his distribution efforts (2 assists, 5 turnovers) in the absence of Rondo. Dirk Nowitzki scored a game-high 26 points on 10-of-24 shooting with 16 rebounds (he was plus-27 in plus/minus), while Jason Terry was the usual pest off the bench (four 3-pointers, 16 points).
TURNING POINT
The Celtics were within six with seven minutes to go in the second quarter, but Nowitzki scored 10 of the game's next 12 points, putting the Mavericks out front 37-23 with 4:46 to play in the first half. Boston hardly challenged again from there, trailing by 10 at the intermission, but Dallas soon led by 26 in the second half.
DIRK PASSES THE CHIEF
During Monday's game, Nowitzki leapfrogged Celtics legend Robert Parish (23,328 points) for 20th place on the NBA's all-time scoring list. Nowitzki increased his career total to 23,354 with his offensive efforts on Monday. Next in Nowitzki's sights: Kevin Garnett, who sits at No. 19 with 23,719 career points.
BRADLEY SHINES FILLING IN FOR RONDO
If you're looking for one silver lining, it's Avery Bradley. The second-year guard, filling in for Rondo, who started his two-game suspension Monday night, chipped in 12 points on 6-of-11 shooting with four rebounds, two assists, and a steal. He was a minus-16 overall and didn't do much to facilitate the offense, but he was the team's only real energy at times (throw Mickael Pietrus into that category as well) and tried to make things happen offensively, particularly with his improving jump shot.
WHAT IT MEANS
It's hard to get too worked up when the Celtics were playing the second night of a back-to-back without key personnel, but it doesn't take much of the sting out given just how helpless the Celtics have looked at times during this recent skid. The Mavericks didn't exactly blister the field (36 of 89, 40.4 percent), but second-chance opportunities helped negate Boston's own success in that category (the Celtics converted all six second-chance shot opportunities they had for 15 points; Dallas was 4 of 10 for 12 points). The Mavericks won the battle on the glass overall (51-44 in total rebounds) and had better ball movement (out-assisting the Celtics, 26-17). More importantly, they took care of the ball (10 turnovers leading to 13 points), while Boston did not (17 turnovers for 25 points). The Celtics get a day to lick their wounds before closing out the first half of the season Wednesday night in Oklahoma City.