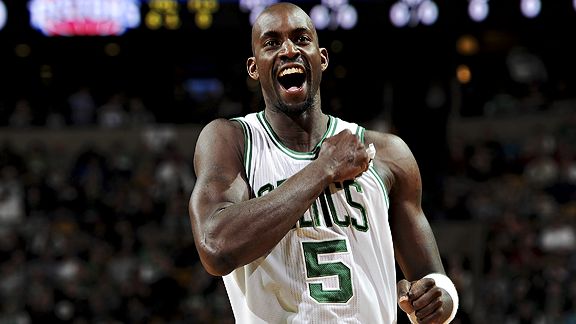 Brian Babineau/NBAE/Getty Images
KG's fire makes him one of the game's most valuable defenders.For its analytics issue in March, ESPN the Magazine

examined how Kevin Garnett inspired a radical player-evaluation movement in the NBA:
DURING THE SUMMER OF 2007, Garnett was traded to the Celtics, a team owned by Wyc Grousbeck and Steve Pagliuca, venture capital and private-equity guys who placed a heavy emphasis on statistical analysis. It was likely not a coincidence that they targeted the Timberwolves All-Star. When they bought the team in 2002, they brought along with them a young consultant named Daryl Morey, who'd helped with the sale. Despite having never worked in basketball, he loved to talk stats and had read guys like Oliver and Hollinger. Soon he was advising Celtics president of basketball operations Danny Ainge about player evaluations, drafts and trades. Morey left in 2006 to take the Rockets' assistant GM job, but his protégé, Mike Zarren, remained in Boston, assuming the role of team stat guru. Zarren wouldn't comment for this story -- as analytics has gone mainstream, it has also become increasingly secretive -- but the Celtics no doubt knew just how valuable KG was at the time. Why else would they trade two first-rounders and emerging big man Al Jefferson, among other assets, for a 31-year-old player? The move paid immediate dividends. During his first season in Boston, the forward added 12.2 points per 100 possessions to the Celtics' cause, the most on the team. Boston won the title -- this time with Garnett eliminating the Lakers in six games.
Hop HERE

to read the full story.