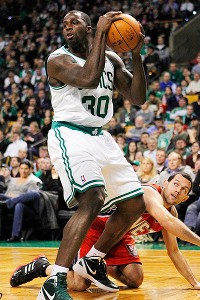 Greg M. Cooper/US Presswire
The Celtics will get a second-half boost with the return of Brandon Bass.As the Boston Celtics emerge from the break relatively healthy, the franchise's future and trade strategy will become clearer over the next two weeks:
Not since Game 5 of the 2010 Eastern Conference semifinals has a visit to Cleveland meant this much to the Boston Celtics.

Fresh off a much-needed All-Star break, the staggering Shamrocks reconvened in the Forest City on Monday hoping to find their way out of the woods. Boston has lost a Big Three-era-worst five straight and is merely 1.5 games ahead of the Cavaliers for the eighth and final playoff seed in the Eastern Conference entering the second half of the season.

Boston will officially hit the midpoint of the 2011-12 campaign (Game 33 of 66) during Tuesday's joust with a Cavaliers squad that continues to show encouraging signs despite losing energetic big man Anderson Varejao to a broken wrist earlier this month.

With an incredibly daunting eight-game road trip looming in March (Boston plays 11 of its 17 games that month on the road), the next seven games could be vital in determining the direction of the franchise. Sitting two games below .500 (15-17) coming out of the break, the Celtics and president of basketball operations Danny Ainge must decide soon how they will approach the rapidly approaching March 15 trade deadline.

Will Boston be a buyer looking to give itself a small jolt for a late-season push? Will the Celtics be a seller turning its attention to the future and acknowledging little chance of being a true contender this year? Will the Green simply stay the course and see what happens?

In the 12 days before Boston heads out West, we should find out those answers.
Hop HERE to read the full story.