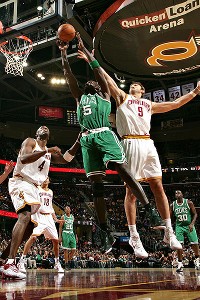 Liam Kyle/Getty Images
Kevin Garnett came up big against the Cavaliers Tuesday night.It might be a while before the folks at TD Garden get to dust off the Gino video -- the American Bandstand clips with the bearded groover that roll during the final moments of lopsided home wins by the Celtics -- so here's an idea for the rest of the 2011-12 season. Someone should go hit the MTV vault and look for clips of Eric Nies that can run at the end of every narrow triumph because this season is clearly drawing inspiration from the title of the network's early '90s dance show, "The Grind."
Celtics coach Doc Rivers admitted as much -- in so many words, at least -- after Tuesday's closer-than-it-should-have-been 86-83 triumph over the Cleveland Cavaliers at Quicken Loans Arena. Boston built a 16-point cushion on the strength of a dominant first quarter, then turned the ball over a head-slapping 10 times in the second frame while letting the Cavaliers right back into a game that ultimately featured 11 ties and nine lead changes, the final of which didn't come until Ray Allen's fast-break slam with 48.6 seconds remaining in the fourth quarter thrust the Celtics out front to stay.
While discussing how All-Star point guard Rajon Rondo (0 points, 11 assists over 32:29) got down on himself because of early turnovers, Rivers told reporters in Cleveland, "We're all human, we're not going to play great every night. But you have to grind every night. That's what this team is, and that's what we're going to have to be -- a grind-it-out team every night."
So forget bell bottoms and the Bee Gees. For this year's Celtics, wins should trigger club gear and the Spice Girls.
Tuesday's game shouldn't have been close. The Celtics embarked on a 13-0 run midway through the first quarter -- Chris Wilcox throwing down a Rondo alley-oop lob in transition to punctuate the burst -- and Boston led 24-10 with 3:52 to play in the frame.
But Rondo and Paul Pierce each threw the ball away three times in the second quarter and Kevin Garnett added two more turnovers as Boston gave the ball away a total of 10 times for 18 points in the frame. Boston's lead was five at intermission and the game was tied less than three minutes into the second half.
The Celtics can take solace in the strong play, particularly on the defensive end, in the final minutes, especially given their lack of late-game execution at times this season. Cleveland had a couple of chances to pull away, but Boston came up with big stops. None were bigger than when Garnett forced rookie sensation Kyrie Irving to turn the ball over with less than a minute to go and the Cavs out front by a point. Garnett then fed Allen in transition for the go-ahead bucket.
That alone didn't ensure the win. Garnett missed a 16-footer, but scrambled to fetch his own rebound and made a pair of pressure-packed free throws after the Cavaliers were forced to foul with 3.9 seconds to play. Anthony Parker missed a 29-foot 3-pointer at the buzzer with a chance to tie.
After reportedly giving the Celtics a bit of a pep talk during the pre-All-Star finale in Oklahoma City, Garnett backed up his words by stepping up in the clutch. But it's obvious the Celtics are going to need contributions from everyone on the roster moving forward. Mickael Pietrus had some big moments early when shots wouldn't fall for Pierce; Bradley gave a spark when Rondo got frustrated. Even when healthy, the Celtics can't lean on just their stars.
The win snapped a Big Three era-worst five-game losing streak, but the Celtics (16-17) still remain a game under .500 and host the Bucks in the second night of a back-to-back on Wednesday. There are few breaks for Boston until the finish line.
As Rivers sighed to reporters in Cleveland, "Every night is a big night for us." And every night will be a grind. Bring your dancing shoes.
A few quick-hit thoughts from Tuesday's win:
* BASS IS BACK: Welcome back, Brandon Bass. After sitting out the last six games due to left knee inflammation, Bass picked up right where he left off, providing an offensive spark by chipping in 12 points on 6-of-12 shooting with seven rebounds and two steals over 35:11. At times when Boston's offense went stagnant, Bass' midrange game was key. While the lineup of him and the Big Four had struggled at times this season (mostly in end-of-game situations), that unit helped Boston both build an early lead and hold on to the victory late.
* TO ERDEN IS HUMAN: For all those who waste time lamenting the Kendrick Perkins trade, perhaps you should refocus your energy on the Semih Erden swap last season. Desperate to clear roster space, the Celtics flipped rookies Erden and Luke Harangody to Cleveland for a 2013 second-round pick (originally belonging to Minnesota). The buyout players that Boston brought in did little to aid the team and the Celtics sure could use a guy like Erden now. Yes, he was a nonfactor late in Tuesday's game, but he still earned a spot start and chipped in 4 points, 6 rebounds, 2 very pretty assists and a block over 20 minutes. That's exactly the sort of production he used to give Boston when filling in for the injured O'Neals (Jermaine and Shaquille) a year ago. Erden sure would come in handy as a legit center off the bench this season.
* RE-DOOLING THE ROTATION: It's clear Celtics coach Doc Rivers is trying to get Keyon Dooling going after the veteran combo guard missed 16 games in the first half of the season. Dooling played nearly 11 minutes, but missed all three shots he took while grabbing three rebounds and registering one assist in a scoreless performance. While second-year guard Avery Bradley continues to emerge and find his role as Rondo's backup, the Celtics are still looking for a way to get more out of Dooling.
* WILCOX ON THE GLASS: A game-high 11 rebounds for Chris Wilcox in 23 minutes off the bench. That's exactly what they need from him off the pine. Wilcox overcame early foul trouble to chip in five points as well. With Jermaine O'Neal sidelined by a wrist injury, Bass and Wilcox will be key most nights (and Greg Stiemsma got nearly four minutes of burn, chipping in a bucket and a rebound in a brief appearance).