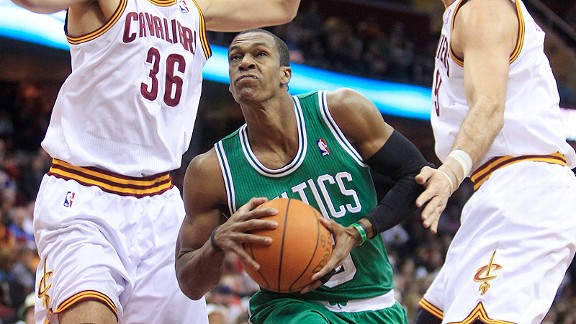 AP Photo/Tony Dejak
Rajon Rondo drives hard to the basket Tuesday night vs. the Cavaliers.Rapid reaction after the Boston Celtics defeated the Cleveland Cavaliers 86-83 Tuesday night at Quicken Loans Arena:


HOW THE GAME WAS WON
After a dominant first quarter, the Celtics flirted with disaster by not valuing the ball and fumbled away a 16-point cushion before pulling out the win behind gritty fourth-quarter defense. Ray Allen scored a team-high 22 points on 8-of-13 shooting (4 of 8 beyond the arc), while Kevin Garnett added 18 points and eight rebounds. Rajon Rondo was scoreless but handed out 11 assists, while Paul Pierce (12 points, 6 assists) provided some big buckets in the final frame. Rookie Kyrie Irving scored a game-high 24 points for Cleveland despite a minor injury scare absorbing a Pierce charge in the first half.
TURNING POINT
With the Celtics down 1 with less than a minute to play, Garnett forced a turnover with his aggressive defense, denying the Cavaliers from getting into the pick-and-roll, and Irving ultimately threw the ball away. After grabbing the steal, Garnett delivered an outlet pass to Allen for an uncontested dunk and an 82-81 lead with 48.6 seconds to go. Pierce then provided some stout defense, forcing Irving to take an odd-angle shot on a drive to the basket. Garnett got the rebound, made two free throws at the other end, and Boston hung on from there.
BOLD PLAY OF THE GAME
Pierce, who has struggled with his shot all season, couldn't get much of anything to fall for the first 44 minutes of the game, but came up with some huge buckets down the stretch. That included a deep 3-pointer from the right wing that put Boston out front 78-76 with 3:19 to go and a vintage step-back jumper a short time later to again push the Celtics out front as the lead changed seven times in the final quarter. Pierce finished 4-of-11 shooting (2 of 7 beyond the arc), but committed six turnovers and was a minus-11 in plus/minus over 34:31.
BIG MINUTES FOR BRADLEY
Second-year guard Avery Bradley continues to emerge as a key rotation player, chipping in 6 points on 3-of-5 shooting with three assists over 15 minutes. Bradley is slowly improving at running the offense and is creating his own scoring opportunities off cuts and strong drives to the basket. It also allowed Rondo to play a manageable 32:29.
IT'S ALL ABOUT 18: KG PASSES CHUCK
Garnett leapfrogged Charles Barkley (23,757) for 18th place on the NBA's all-time scoring list on a fourth-quarter bucket. Garnett entered Tuesday's game 15 points behind Barkley and now has 23,760 career points. Next in KG's sights: Allen Iverson who, barring an NBA comeback, has 24,368 career points.
WHAT IT MEANS
After an ultra-encouraging first quarter, the Celtics were plagued by turnovers (18 leading to 20 points on the night; 10 turnovers led to 12 points in the second quarter alone) and let the Cavaliers back into the game. As we've said all season, beggars can't be choosers. The win snaps a Big Three-era-worst five-game losing streak and gives Boston some much-needed momentum to start the second half of the season, particularly with a back-to-back looming Wednesday in Boston against the Bucks. Bass' return was huge for the Celtics (though the Cavaliers not having Anderson Varejao helped immensely). Boston still has kinks to work out, but the late-game execution was encouraging and -- hey -- nobody appeared to get hurt.