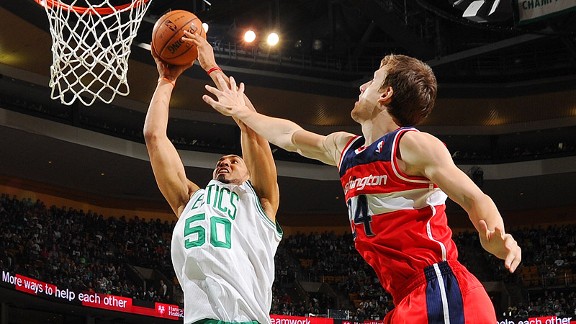 Brian Babineau/NBAE/Getty Images
Celtics center Ryan Hollins goes up strong with the ball against Washington.BOSTON -- When the Celtics inked big man Ryan Hollins last week, the scouting report said he could be combustible at times. Even still, it was a bit of a surprise when Hollins earned a technical foul a mere 61 seconds into his debut Friday night in Philadelphia.
Consider Hollins surprised, too, as it appeared he simply got an elbow up a little too high on Philadelphia's Thaddeus Young while attempting to box out around the basket on a Rajon Rondo jumper. That didn't stop Kevin Garnett from having a little fun with the situation, particularly after Hollins said he wanted to play with an intensity level similar to Garnett.
"I told him to be careful about my intensity, it'd get him kicked out of the league, man," cracked Garnett. "His first game in Philly, he got a fine and a tech, like, 30 seconds into the game, so he might want to be careful with that."
On a more serious note, Garnett and Hollins were fast friends after they got to spend time together working out in Southern California during the lockout. And it might have been Hollins' intensity that the two players bonded over during pick-up games, which laid the foundation for his arrival after being waived by the Cleveland Cavaliers last week.
"This intensity comes with a sense of meditation and a sense of under control. But I love his intensity," said Garnett. "The kid plays really, really hard. I had a chance to spend some time with him this summer. Summertime's the time when you're working on things, but for me, I don't make a lot of friends, and I can say that I made one in him. I like the way the kid approaches the game. He wants to be more than good. You see it in his face, you see it in his work ethic. I'm a big fan of his, so I'm glad he's here, and, like the other young guys, whatever he wants to know, I'm here for him. So, I'm happy he's a C."
For Hollins, who has bounced to five different teams in six NBA seasons, having a bit of a mentor in Garnett could help steer him on the right track. Sunday's lopsided win over Washington afforded Hollins extended playing time and he responded with 3 points and a rebound over 12:37.
How does Hollins like being a teammate with Garnett instead of an opponent?
"You hate him when you go against him, and that's the guy you love to be on his team," said Hollins. "You just see him, he's kind of the model for young bigs around the league, when you talk about talking, communicating, rotating, things like that. It's Kevin Garnett. He's always the example, and now I have him as a teammate, so I'm definitely happy to be with him."
Just how easy is it to go from hate to love?
"It's easy," said Hollins. "There's a fine line between it, right? But I've always had respect for Kevin's game and growing up watching him, he's the ideal big man. So, I'm glad to be playing alongside him."
But back to that technical foul. Hollins admitted he was surprised by the whistle and suggested he was hoping for the call to be rescinded upon video review. Just don't expect him to change his intensity because of it.
"I mean, it is what it is," said Hollins. "I come out every night and I play hard, so you've got to respect that. I've always learned that it's harder to turn a guy up. It's easier to tone a guy down and fix that, rather than toning a guy up. You don't want your problem to be, 'Hey, my big man was soft tonight.' So, it's not going to be a problem of mine. I'm going to be ready to go. I never want to do anything to hurt the team, but that's just one of those situations."
A situation that Hollins said still doesn't quite make sense to him.
"Everybody was shocked," he said. "I was surprised [referee] Eric [Lewis] did that, but it was his call and his judgment to it. We'll look into it. But, hey, it's part of the game."