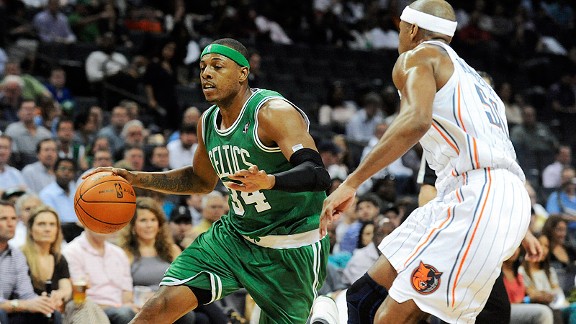 Sam Sharpe/US Presswire
One of Paul Pierce's many drives to the bucket Monday night against the Bobcats.Paul Pierce's jumper has deserted him this season, which only makes what he's doing all the more ridiculous.
Maybe his 36-point effort Monday night in Charlotte will hammer home exactly how crazy it is that Pierce has remained one of Boston's most consistent offensive contributors this season despite the fact that his shot won't fall with any sort of regularity. Pierce hit just one shot beyond 15 feet on Monday -- the only one of his six 3-point attempts that rattled in -- yet got to the basket so frequently that he produced only the eighth regular-season game of 36 points or better in the Big Three era. (Seven of them belong to Pierce; his 39-point effort against Toronto in 2009 is the best of the bunch).
Oh, and Pierce chipped in 10 rebounds, 4 assists, 3 steals and 3 blocks over 38:18 on Monday night as part of Boston's 102-95 triumph at Time Warner Cable Arena. But let's keep the focus on the offense for the moment.
Because here's the thing: One season after shooting nearly 50 percent from the floor (thriving in large part behind his familiar midrange game), Pierce entered Monday's game shooting a mere 35.8 percent (161-for-449) from beyond 3 feet this season, according to shot location info from HoopData. That includes only 32 percent from his typical midrange sweet spot (16-23 feet) and a mere 36.7 percent beyond the 3-point arc. Heck, Pierce isn't even finishing at the rim as well this year, his percentage down more than eight percent after shooting 70 percent there last season.
And then you look at his scoring average: 18.6 points per game this season; 18.9 points last year. All while averaging 4.9 assists per game this season, flirting with a career high (5.1 in 2003-04). Yes, ever the NBA chameleon, Pierce isn't letting the injury woes that set him back at the start of the season (and clearly remain a hindrance) stop him from contributing the way he's used to.
Which is why we should stop to appreciate what he did Monday night in Charlotte.
It's hard to even call it vintage Pierce. Only 16 times in 1,010 NBA games has he gotten to the line more than he did against the Bobcats, where he connected on 15-of-18 freebies. (Boston shot a season-high 45 free throws.) What's more, Pierce set a season-high with seven buckets at the rim against Charlotte, putting the team on his back when the Ray Allen-less offense slumped after a big first quarter.
Sure, all this happened against the defensively inept Bobcats, they of seven wins this season. But the fact remains that Pierce, known primarily for his offensive efforts, is altering his game at age 34 and not allowing his shooting woes to affect his contributions.
One thing the Celtics have put an emphasis on is getting Pierce more touches in the post, particularly on a team devoid of post offense beyond Kevin Garnett. According to Synergy Sports data, Pierce accounts for 18.5 percent of the team's post plays (second only to Garnett at 42.3 percent) and is averaging a team-best 1.065 points per play. That ranks him in the 95th percentile among all players in the NBA. What's more, Pierce gets fouled a team-high 16.1 percent in the post, meaning that even when he's not finishing around the hoop, he's getting to the stripe for easy points and Synergy data notes he scores on a whopping 55.3 percent of touches in the post.
"We would like to post him more," Celtics coach Doc Rivers told reporters in Charlotte. "We're a jump-shooting team, but we've got to have the low post. [Pierce] was in attack mode the whole night and that was good for us."
Will Pierce find his jumper before the playoffs? His season-long struggles suggest it's unlikely, as Pierce still is trying to catch up after missing all of training camp and the start of the regular season due to a bruised heel. But he just keeps finding ways to put points on the board, even if it means getting his teammates more involved.
And his 36-point effort Monday night reminds us that Pierce still is capable of taking over a game, even when he struggles. It might have reminded us how Pierce quietly remains the MVP of this team with his all-around efforts.