Stephen Dunn/Allsport
Paul Pierce will have his Kansas gear on Monday night for the national title game.BOSTON -- Celtics captain Paul Pierce had three University of Kansas baseball caps and a Jayhawks T-shirt on display at his locker before Sunday's showdown with the Miami Heat. Clearly, the captain was hoping that teammate and Kentucky product Rajon Rondo -- who resides just a few stalls down -- might take notice.
So have the two made a bet before their alma maters clash on Monday night in New Orleans?
"Yeah, we definitely have a friendly wager," said Pierce. "We'll talk about it after Kansas wins."
Informed of Pierce's bold prediction, Rondo shot back, "He has to say that, he went to Kansas. But we all know what's going to happen tomorrow."
No surprise which way these two are leaning. How about we lean on an unbiased observer -- at least with Duke and Marquette out of the tourney -- in Celtics coach Doc Rivers. Who ya got?
"That's a tough one, because I like both coaches," said Rivers. "And I had both of them in my pool, by the way, playing in the finals... I won [the Celtics' NCAA pick 'em pool] -- it's already over, because I said it was over and I'm the head coach. I picked Kansas before it all started. I don't think I'm going to be right, but I did pick Kansas."
After Sunday's win, Pierce took to Twitter, not to celebrate a key triumph over the Heat, but to support Kansas again.
"I need to go put Rondo in a headlock right now to let him know what it's gonna [be] like [tomorrow]. Rock Chalk," Pierce Tweeted.
Either Pierce or Rondo will be crowing about their school when the Celtics convene Tuesday afternoon for a rare practice session. Rivers will probably still be gloating about his predictions. But there's really only one player that has true bragging rights when it comes to the NCAA title game: Ryan Hollins. The recently added center is the only player currently on the Celtics' roster who has actually played in an NCAA title game (ironically, Hollins took the roster spot owned by Chris Wilcox, who played for Maryland's national title team in 2002). A look at Hollins in action from that title game...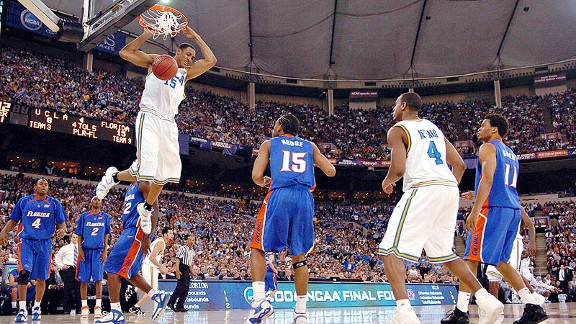 Patrick Schneider/Getty Images
UCLA's Ryan Hollins in the NCAA title game vs. Florida in 2006.