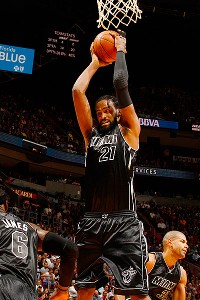 Issac Baldizon/NBAE/Getty
Ronny Turiaf at work for the Heat.BOSTON -- Heat center Ronny Turiaf turned in 6½ underwhelming minutes during Boston's 91-72 triumph Sunday at TD Garden. Turiaf, who picked the Heat over the Celtics after being waived last month, got whistled for three fouls in under four minutes during his first stint, then missed the only shot he took on the night. Before the game, ESPN Boston's Peter May caught up with him to see how close he came to signing with the Celtics and to see if he's reached out to Jeff Green and Chris Wilcox to talk about their aortic ailments:
On choosing Miami over Boston: "Boston came up close. It was down to the final two or three teams and I made a choice to go to Miami based on a whole bunch of factors. But Boston was a team I was very, very interested in by the simple fact of the way they play defense, that they are being coached by a future Hall of Famer coach and they have Hall of Fame basketball players on their squad. It was very appealing to me."
On having a second Frenchman [Mickael Pietrus] in the C's locker room: "To be able to play with one of my national team members and friends would have been something very special. Unfortunately, it didn't happen."
On reaching out to Chris Wilcox: "I want to reach out to him. It has been so hectic these last couple weeks and I didn't have time. I reached out to Jeff [Green] and I was going to use this opportunity to try and get [Wilcox's] phone number so I can reach out to him, because that's something that's very, very important to me. I have talked to many, many people about what it's like to go through this ordeal."
On Boston enduring two heart ailments in one year: "I am not a mathematician, but I know that's very unlikely. I'd rather have them go through this and then be healthy and be able to play basketball again then have to mourn those guys. That's how I look at it."