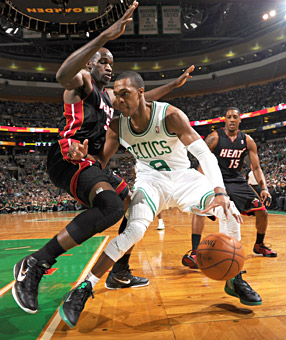 Brian Babineau/NBAE/Getty Images
Rajon Rondo and the Celtics valued the ball Sunday vs. the Heat.BOSTON -- A handful of news and notes after the Boston Celtics defeated the Miami Heat 91-72 Sunday at TD Garden:
A turnaround on turnovers
During their December visit to Miami, the Celtics turned the ball over 24 times leading to 33 points for the Heat. Celtics coach Doc Rivers implored his team to not give up easy points, going so far as to suggest chucking the ball six rows deep instead of trying to make a splashy save.
Boston responded by committing 16 turnovers for a mere 11 points (nine of the turnovers came in the second half, but led to zero points). The Celtics generated more scoring (15 points) off Miami's 12 total turnovers.
"You're not going to beat Miami if you turn the ball over," Rivers said. "Literally, when we talked about it this morning, I said, 'If you've got a choice between saving the ball and throwing it in the stands, throw it in the stands.' Because a live turnover against them -- statistically, I think they're at a historic pace after turnovers -- and so I thought we had the one stretch, I think we had four [early in the second quarter], even if it wasn't turnovers, bad shots, a couple turnovers in a row, and they made a run. Other than that, I thought we were terrific with the ball."
Maybe most impressive in Rajon Rondo's triple-double effort was the little number in the turnover column; he gave the ball up just twice while handing out 14 assists. And that's coming off Friday's win, when Rondo had 17 assists to only two turnovers. Only once in his last seven games has Rondo had more than three turnovers in a contest, producing 100 assists versus 22 turnovers during that span.
Confidence? Check
The Celtics have won five in a row and seven of their last eight, but Sunday's win was about the most confidence-inspiring of the season. Sunday meeting with the Heat was the first of seven consecutive games against playoff foes, and Boston responded by absolutely throttling a team pegged as a favorite in the Eastern Conference.
Even still, with two more matchups in the regular season against the Heat, the Celtics were careful about not getting too excited about the win.
"I don't know if it does anything for our confidence. Honestly, I think we know we're playing well," Rivers said. "We know we're shorthanded and playing well as well. I thought our guys, honestly, I mean, they wanted to play this game tonight, but I don't think they had a confidence issue about the game, if you know what I'm saying. So it may give other people confidence in us, but I think our guys are a pretty confident group. They feel they can play with anyone. We also know we have to get better at a lot of things too, while we're doing that. We're a team that, to me, is still trending up, and that's a good thing."
Echoed Rondo: "It'll be a brand new 48 minutes [the next game], so it's one win. ... We're trying to get one win at a time. We've got a tough back-to-back coming up. It's a good team win, but we want to focus on San Antonio coming up next."
Double-double for Bass
Brandon Bass registered a double-double with 16 points and 10 rebounds in Sunday's win. Both stats were intriguing because (1) Bass picked up his game on the glass and (2) he did his scoring while mustering only three field goals, hitting all 10 free throws he attempted.
On rebounding, Bass noted, "Every night I go out, I keep in mind that I have to give better rebounding in order for us to rebound better as a group."
As for getting to the line, he saw all those free throws Avery Bradley has been shooting and figured he might as well join in. Said Bass: "I saw what Avery was doing [by cutting to the basket] and I figured easy baskets so I said, 'Well, let me join in.'"
Rivers still sees room to improve for Bass, particularly in being ready to pull the trigger on his midrange jump shot.
"I didn't think he was ready at times today with their over-help," Rivers said. "He caught the ball a lot and was open, and wasn't ready to shoot. But they were running at him so hard, then he puts it on the floor, or he's cutting today, and that got him to the free throw line. That's where we've got to get him into a ready-shot position, because we've got teams stretched out, and he's a heck of a shooter."
Loose balls: Bradley's block, Stiemsma's crew
* Avery Bradley on his highlight-worthy block on Dwyane Wade in the first half: "I was just playing hard and made a good play. You know I think it just comes from playing hard, I'm always out there playing hard trying to do whatever I can do to help my team win." Asked about Wade barking at him after the play, Bradley noted, "He was just motivating me, telling me keep going."
* Not only has Greg Stiemsma emerged as a key role player for the Celtics over the past couple of weeks, but he's done so with a healthy fan base cheering him on. Stiemsma had a bit of a homecoming last month in Milwaukee, then had a solid throng of fans on hand in Minnesota. Three of his best buddies from back home -- decked out in their Stiemsma Crew T-shirts -- made the trek for Sunday's game against the Heat. The group nearly toppled out of their chairs when Stiemsma drew an early charge from Chris Bosh (and again when he nearly produced a fastbreak slam). Stiemsma fouled out for the second straight game and Rivers has joked with him about making sure he gets his money's worth with each foul.
* LeBron James didn't register an assist for Miami. Said coach Eric Spoelstra: "We didn't make any shots. You don't get assists off of missed field goals."