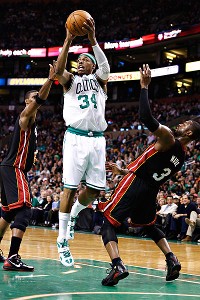 Greg M. Cooper/US Presswire
Paul Pierce drives during Sunday's visit from the Miami Heat.BOSTON -- It's easy to forget now, given how much time has passed, that Paul Pierce didn't play when the Celtics and Heat met for the first time this season. Back on Dec. 27, in just the second game of the season, the C's stumbled in South Beach while Pierce nursed a heel injury. And, had the situation been identical on Sunday, the result would have also probably been the same.
Instead, Pierce played, and the Celtics emerged with a convincing 91-72 decision over Miami at TD Garden.
Of course Pierce isn't the sole reason why the Celtics were able to extend their winning streak to five games and come away with arguably their most substantial victory of the season. Rajon Rondo produced another triple-double in front of a national television audience (16 points, 11 rebounds, 14 assists), Avery Bradley chipped in 13 points and played terrific defense on Dwyane Wade, and Kevin Garnett and Brandon Bass combined for 26 points and 18 rebounds. But it was Pierce who continued to be the model of offensive consistency, producing 23 points on 8-of-17 shooting, to go along with seven rebounds, while being matched up against two of the league's premiere perimeter defenders in LeBron James and Shane Battier.
Pierce's performance might go unheralded, cast in the shadow of Rondo's latest dominating effort, but in a contest that demanded an attack-first agenda, Pierce immediately put Miami's defense on the ropes, scoring nine points in the first quarter on 3-of-6 shooting. He buried a free throw line jumper off of a hard cut from the left wing, drilled a left corner 3-pointer off of a slick stop-and-dish move from Rondo, and followed that up by channeling his inner Ray Allen and knocking down a left wing jumper off of a screen. When the first quarter dust settled, Pierce and the C's led 29-19.
"I think, you know, right now, we're starting to find our groove, so we're able to come out, be aggressive from the jump, that's the type of mentality we [have]," Pierce said. "We're usually the aggressors, not the retaliators, so when we come out and play that way, that's pretty much our identity, offensively, defensively, we like to come out and throw the first punch. If we're able to do that and play that way throughout the whole part of the game, then I like our chances, night in, night out, against anybody."
The Heat cut Boston's 10-point lead down to just five (49-44) heading into halftime, and the onus was once again on the Celtics to start the second half the same way they started the first. Pierce obliged, by swiping the ball at halfcourt on Miami's first possession and streaking in for an easy layup. It was an appropriate benchmark for the remainder of the quarter, as Boston outscored Miami 31-12, with Pierce scoring five more points along the way, including a 3-pointer that gave the Celtics an 18-point edge (their largest of the game at that point), with just over four minutes remaining.
The Celtics would roll from there, but Pierce put his final stamp on things early on in the final frame, when he slashed past Battier on the left wing and soared up along the left baseline for a two-handed slam, his exclamation point being his ferocious yell as the C's amassed a 25-point edge.
Sunday's game marked the seventh straight in which Pierce has scored at least 20 points, and the Celtics' only loss during that stretch came against Philadelphia two Fridays ago when Mickael Pietrus suffered a brutal concussion, which clearly hindered the team's immediate morale. The consistency Pierce has displayed on the offensive end of late, as well as his focus on the glass, is as big a part of Boston's resurgence as anything else. Rondo and Garnett have undoubtedly played better, but Pierce, now in shape and free of nagging injuries, has re-emerged as the team's offensive catalyst. He's helped to mask the absences of Allen and Pietrus, and he's scoring in practically every manner -- from beyond the arc, on drives to the rim, and from the free throw line (he knocked down all five of his freebies against Miami on Sunday).
Rondo might still be the one the C's depend on the most to set a brisk pace early in a ball game, but when that doesn't happen, an effective and efficient Pierce still yields the hope of victory.
"[Setting the tone offensively is] something I try to do every night," said Pierce. "It doesn't change, regardless of who we're playing. That's who I am for this ball club, that's who they need me to be, regardless of who we play against."