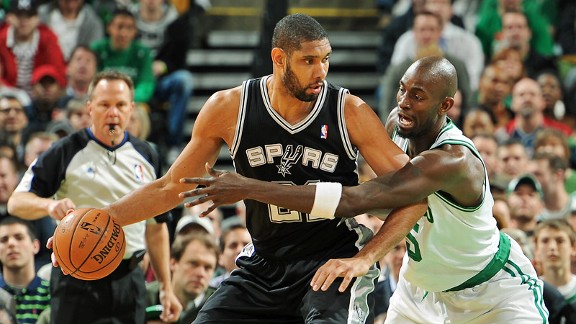 Brian Babineau/NBAE/Getty Images
Just like old times: Kevin Garnett versus Tim Duncan during Wednesday's Celtics-Spurs battle.BOSTON -- Rapid reaction after the San Antonio Spurs defeated the Boston Celtics 87-86 Wednesday night at TD Garden:


HOW THE GAME WAS WON
Daniel Green paced five Spurs in double figures with 14 points, but it might have been the bench efforts of Gary Neal (13 points) and Matt Bonner (10 points), who each hit key late-game buckets, that helped San Antonio escape with the win despite mustering just 28 second-half points. Avery Bradley scored a team-high 19 points off the bench for Boston, while Paul Pierce -- fresh off his Player of the Month award -- added 15 points and 10 rebounds, but missed a chance to win it at the buzzer. Rajon Rondo added 17 points and pushed his double-digit assist streak to 14 games with 11 assists over 44 minutes.
TURNING POINT
Brandon Bass' tip in with three minutes to play had Boston out front 83-81. Ironically, second-chance points would kill the Celtics on this night (San Antonio finished with a 18-4 advantage overall). Tim Duncan kept a play alive with an offensive rebound before feeding Neal for a 3-pointer that put the Spurs back out front. Manu Ginobili scrambled for another offensive board a short time later and Bonner hit a back-breaking, shot-clock-beating jumper with 46.5 seconds to go for an 87-83 cushion. The Celtics got a triple from Ray Allen with 39.8 seconds to play and had a chance to win it on the final possession, but Pierce couldn't connect on a step-back at the free throw line over Duncan.
IT WASN'T PRETTY, BUT IT GAVE THEM A CHANCE
After giving up 59 first-half points, including 32 in the second frame, the Celtics' defense showed up for the third quarter, limiting the Spurs to a mere 9 points on 4-of-20 shooting (20 percent). The Spurs misfired on all eight 3-pointers they attempted and generated only two buckets over the final 9:47 of the third quarter. That helped Boston trim a 13-point deficit to 4, but the Celtics couldn't capitalize more while shooting a mere 35.3 percent (6-of-17) and turning the ball over seven times.
BOLD PLAY OF THE GAME
Gotta give Sasha Pavlovic the nod here. Not only did he chip in some key minutes with Pierce in foul trouble, but he provided a rare burst of offense to start the second quarter. First Pavlovic drilled a 3-pointer off a Kevin Garnett feed, then he picked the pocket of a napping Stephen Jackson near half-court before going in for an uncontested reverse jam. Bradley deserves an honorable mention for his efforts a short time after as he scored nine consecutive points -- off four layups and a free throw -- to help Boston tie the game before the team's offense went cold the rest of the first half.
ALLEN & BRADLEY WATCH
Ray Allen returned after a six-game absence due to a sore right ankle, shuffling Bradley back to a bench role, but it hardly hindered the second-year guard. The Celtics went small for much of the night, often operating with a three-guard lineup that kept both players on the floor. Bradley responded with the team-high 19 points on 9-of-16 shooting over 34 minutes. Allen finished with 5 points on 2-of-6 shooting over 35 minutes.
SCOREBOARD WATCHING
The Philadelphia 76ers continue to struggle, getting throttled at home by 21 points against the hapless Toronto Raptors. That means that, even with the loss, the Celtics hold on to a 1½-game cushion atop the Atlantic Division with Thursday's visit to Chicago looming.
WHAT IT MEANS
The Celtics watch a five-game winning streak get snapped (now 15-6 since the All-Star break), while the Spurs push their win streak to nine games (14-4 in the second half). Boston could have done itself a favor with more inspired defensive play in the second half, but showed up late and didn't capitalize on its own offensive opportunities with a chance to pull ahead or stretch its fleeting lead at times in the fourth quarter. The Celtics can find positives in this win, but a tough back-to-back looms with the Bulls and this would have been a nice one to steal for Boston.