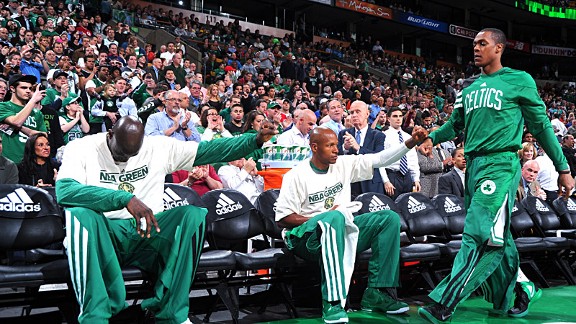 Brian Babineau/NBAE/Getty Images
Rajon Rondo is introduced before Wednesday's game against the Spurs.BOSTON -- The San Antonio Spurs and coach Gregg Popovich are notorious for getting veteran players rest, even at the expense of potential wins. Heck, this is the same team that gave Tim Duncan a "DNP -- Old" last week, though it hardly detoured them as part of what's now a nine-game winning streak after topping Boston 87-86 Wednesday night at TD Garden.
Celtics coach Doc Rivers wasn't so sure his team could afford his players the same opportunity for R&R -- or if they'd take it if he could.
"When you have that record, you can probably do that," Rivers said of the 38-14 Spurs, who emerged from Wednesday's win with a five-game cushion over the Lakers for the No. 2 seed in the Western Conference (and were just a game back of Oklahoma City for the top seed). The Celtics own a 1½-game lead over slumping Philadelphia in the Atlantic Division, but remain 2½ games back of Indiana for the No. 3 seed.
"I think health [is most important]; Rest is a little overrated to me," added Rivers. "I think if I sat out Kevin [Garnett] tonight, he would run 5 miles on the treadmill, lift [weights], and then go shoot. But I think health is key, that's the one for me. If I thought we were playing a guy that was banged up and it could make the injury linger for the playoffs, that's a 'sit' guy, 100 percent. But the rest thing is visually. You'll see it, you'll know it, hopefully. When a guy needs it, hopefully we'll give it to him."
The Celtics are the midst of a stretch in which they play 11 games in 15 days, including the first six against playoff teams (the schedule only lets up for a back-to-back-to-back with road trips to Toronto, New Jersey, and Charlotte. Rivers said Wednesday that the games are coming so fast and furious, that the Celtics will keep the focus on themselves instead of who's on the other side of the floor.
"You don't even deal with the other team, you can't, there's just too many games and they are coming at you," said Rivers. "Honestly, that's the way the whole season has been. We really haven't looked much at the other team. You're so concerned with getting your team to remember two plays in a row, that it's very difficult to prepare for the other team. So this year we've done a lot -- even our shootarounds -- working on our stuff, even our defense. Even though, like [Wednesday], San Antonio, I think, is the best pick-and-roll team in the NBA with what they run, we worked on our pick-and-roll defense, we didn't work on what San Antonio was running, because at the end of the day, we have to get our defense right, that's more important. That's unusual, but I think a lot of teams are doing that."
Asked about the back-to-back looming Wednesday in Chicago, Garnett, an outspoken critic against the condensed schedule, looked into a television camera after the game and said, "Doesn't get any easier; Thank you, [commissioner David] Stern, thank you [executive director of the National Basketball Players Association] Billy [Hunter]."
Just like old times: KG vs. Duncan
Both Kevin Garnett and Tim Duncan will soon turn 36 and neither player's future beyond this year is guaranteed. So with the potential that each meeting could be their last, a little extra focus is paid to the rivalry of two players that are so similar, yet so different. Allow Rivers to explain.
"They are so different in the way they play, but very similar in the way they approach the game," he said. "I think they are as professional as we've seen for stars, maybe ever, at the same time. You rarely get two superstars at their level that are as coachable and are as team-oriented as those two guys. And again, they do it in completely different ways. Tim, never talks -- well, he talks more than you think, but you don't see it. Kevin, on the floor, you see all his stuff, yet they still do it for the same reason."
Both players continue to thrive, even at this stage of their careers. Asked about getting better with age, Popovich said simply, "They are like fine wine."
Garnett registered 16 points, 7 rebounds, and 5 assists over 32:43 on Wednesday, but lamented missed opportunities in the offensive end (connecting on 7 of 19 attempts). Duncan finished with 10 points, a game-high 16 rebounds, and 3 blocks over 33:39.
Maybe not surprisingly, they were in lockstep when talking about their career battles after Wednesday's game.
Said Duncan: "It's been difficult. We've always had some great battles. It always seems to turn into a war at some point in the game. But it's a lot of fun. I think we bring a lot out of each other."
Echoed Garnett: "It's been tough, but fun at the same time. Competitive; never a dull moment."
Loose balls: Doc on defense, Bonner's bucket
* The Celtics limited San Antonio to a mere 28 second-half points -- this after the Spurs scored 32 in the second frame and 59 in the first half overall. Rivers will find a silver lining in that second-half effort: "Oh, it was unbelievable. You know, 9 points. I don't know what they are in the league in scoring, but they're up there. And 19 points [in the fourth quarter]. The game came down to big plays, really. You think about it: they had 2 seconds, side out of bounds, and guy was falling out of bounds, gives it to another guy, the guy makes a 3[-pointer]. Get a long offensive rebound, [Gary] Neal makes a 3. They got two loose balls down the stretch. And we missed some –- we had some great looks -- not just down the stretch, but the whole game. We went one stretch, I think it was 66-60, we were down, [and] I swear it felt like we missed four layups at the basket, missed free throws, I mean the ball wouldn't go in. And it's a make/miss league."
* Matt Bonner, who hit a clutch 16-foot jumper in the final minute to help the Spurs escape with the win, detailed what went into the key moment. "It was being in the right place at the right time," he said. "The laws of probability, I missed my previous 93 shots -- at least in my head that's what it felt like -- so I knew that one was going in." Bonner finished with 10 points and 10 rebounds off the bench for San Antonio.
* Despite missing a shot at the final buzzer with a chance to win the game, Celtics captain Paul Pierce remained upbeat about the team's recent performance. "I like the way we're playing right now, since the All-Star break. I think we have definitely gotten better over the last month or so. The only thing now we just hope we can get healthy, still play at this type of level, and if we continue to play like this, we're going to win a lot of games down the stretch and in the playoffs."