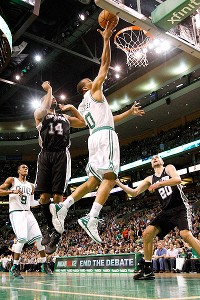 David Butler II/US Presswire
Celtics guard Avery Bradley shined even after moving to a reserve role.BOSTON -- Even before Ray Allen made his return to the starting lineup Wednesday night against the San Antonio Spurs, Celtics coach Doc Rivers rolled his eyes at all the hype surrounding whether Allen or Avery Bradley deserved to be with the first unit.
"It's not a big deal, guys," Rivers chastised. "I know [media members] want to make it one, but it really isn't. I don't think guys care one way or the other."
If it mattered to Bradley, he has a heck of a way of showing it. Shuffling back to a reserve role for the first time in five games -- all wins for Boston -- Bradley overcame some initial hesitation to score a team-high 19 points on 9 of 16 shooting. He erupted for 13 second-quarter points, scoring nine in a row at one point to help Boston rally back from an early deficit, then added a couple fourth-quarter buckets as the Celtics temporarily jumped ahead before the Spurs escaped with an 87-86 triumph at TD Garden.
"It's what I tried to tell you guys before: Starter or not, [Bradley is] going to play the same," Rivers said. "And he was terrific."
Said Bradley of his reserve role: "It doesn't matter where I come in, whether I start or come off the bench -- or if I don't play. However I can help my team, just coming in and bringing that energy, that's what I'm going to do."
So after all that hype about whether the Celtics could benefit more from having Allen providing instant offense off the bench, the team instead found its sixth man spark plug in Bradley, who seamlessly returned to a reserve role and made his presence felt at both ends of the court.
Almost forced to go small to counter the Spurs' personnel, Bradley still received 34 minutes of floor time as Boston trotted out numerous three-guard looks that kept Rajon Rondo, Bradley, and Allen on the court together. Bradley continues to impact the game with his instant defensive energy, but got maybe the highest compliment from Spurs coach Gregg Popovich for his blossoming offensive contributions.
"He's a pain in the ass," said Popovich. "I mean, the game starts and you know what he's going to do. He's going to cut from the corner to the bucket and lay it in. He's going to cut diagonally from the top. You know it and you go play -- I think he was the leading scorer. I didn't check the stat closely, but somebody yelled that to me. You've got to give him credit. He knows his role and he does it very, very well. He killed us all night long."
The Celtics got some of their best ball Wednesday with the small lineup and Rivers said to expect more of it (particularly down the road when Mickael Pietrus is back on the floor and the Celtics add even more wing depth).
"The small lineup saved us tonight," said Rivers. "Because the big lineup -- [the Spurs] were killing us. And, you know, [Matt] Bonner's not a small, but it allowed us to go small. And that -- we had lineups on the floor with all the guards. We had one stretch and we made a run with Keyon [Dooling], Ray, Rondo and Avery. That's not a very big lineup, but they were so active with their hands, and Brandon [Bass] was a part of that group. He did a terrific job on [Tim] Duncan. That's not a great matchup for us. So a lot of good things happened."
Allen displayed some expected rust, connecting on 2 of 6 shots while chipping in 5 points, 7 rebounds, 2 assists, and 2 steals over 34:45. Rivers is hopeful that he'll round back into form with more floor time.
"Rusty, not bad," Rivers said when asked to assess Allen's return after a six-game absence. "He didn't get a lot of shots, which is fine by me. Especially at the beginning of the game, he didn't get any shots and our offense was rolling. So you don't worry about that. But overall, [he played] pretty well. He played a lot of minutes; he looked good moving around. So, yeah, I was happy."
Allen showcased his typical late-game form in drilling a key 3-pointer in the final minute that at least gave the Celtics a chance to win it, but Pierce's buzzer-beater was off the mark.
"[Allen] did well, it's tough when you take five, six games off," said Pierce. "Sometimes the timing's off, sometimes a little bit of the conditioning, but he's going to work his way back slowly. He's a veteran and he knows what it takes. He had a huge shot for us down the stretch and we got to have him back for the stretch run, it's a tough run coming up here, these home and road games, and we need a little bit of everybody."