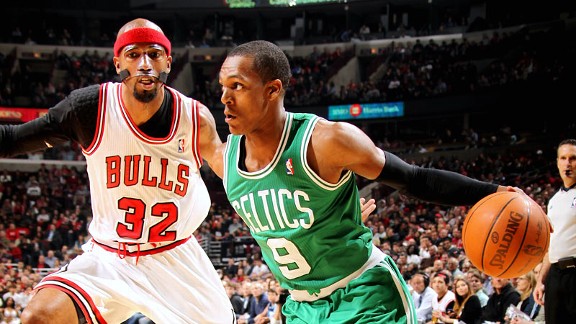 Nathaniel S. Butler/NBAE via Getty Images
Rajon Rondo and the Celtics couldn't get by Rip Hamilton and the Bulls.Rapid reaction after the Chicago Bulls defeated the Boston Celtics 93-86 Thursday night at the United Center:


HOW THE GAME WAS WON
Luol Deng scored 18 of his game-high (and season-high) 26 points in the second half, but it might have been his four offensive rebounds that helped tell the story for a Chicago team that dominated the glass (44-36 advantage; 14 offensive rebounds). Carlos Boozer registered 12 points and 14 rebounds, while Joakim Noah added 17 points, 9 rebounds, and 3 blocks. Paul Pierce scored a team-high 22 points, only 10 of which came after the first quarter, to go along with 8 rebounds, 4 assists, and 2 steals. Kevin Garnett chipped in a double-double (12 points, 14 rebounds) but really struggled with his shot (5 of 16 overall), while Rajon Rondo joined the double-double party (10 points, 12 assists) marking the 15th straight game he's finished in double digits for helpers.
TURNING POINT
The Celtics owned an 11-point halftime advantage, but fumbled it away in a lifeless third quarter in which Boston shot a mere 35.3 percent (6 of 17) and turned the ball over five times. The Bulls utilized five offensive rebounds to help generate seven more shot attempts than Boston in the third quarter and put up 29 points, grabbing a one-point lead heading to the final frame.
BOLD PLAY OF THE GAME
Celtics fans were left holding their breath when Brandon Bass (15 points, 5 rebounds) went down clutching his left knee in the third quarter. It turned out to be only a mild hyperextension and Bass got stretched out before staying in the game following a timeout. He proved to be no worse for the wear as he emphatically followed a Garnett miss with a two-handed putback slam that had Boston out front 58-55 with 4:32 to play... Bass might have been upstaged in the fourth quarter when, facing a late-shot clock situation, John Lucas III buried a back-breaking long distance 3-pointer with Chicago clinging to a one-point lead at that point.
BRADLEY STARTS OVER ALLEN
Celtics second-year guard Avery Bradley earned the start over Ray Allen and finished with 9 points on 4 of 8 shooting with an assist, a steal, and 3 turnovers over 26:41. Allen, playing in a reserve role for the first time in a Boston uniform, chipped in 14 points on 5 of 10 shooting with 2 rebounds and a steal over 31:09. Allen mustered all but four of Boston's points from the bench.
MR. HOLLINS' OPUS
Center Ryan Hollins, used mostly in bite-sized chunks since being signed off the buyout scraphead a couple weeks back, logged nearly 13 minutes of action, chipping in 2 points and a block, but failed to grab a rebound in a game Boston desperately needed some help for Garnett on the glass. Even still, the Celtics gave fresh-legged Hollins quality floor time, he even logged more minutes than Greg Stiemsma (2 points, 1 rebound, 11:07).
LOOSE BALLS: PIERCE SETS THE TONE
Pierce keyed the Celtics' offense out of the gate with 12 first-quarter points on 5 of 10 shooting. He was 3 of 11 the rest of the way... Garnett picked up a technical foul midway through the third quarter for barking about a referee's call that went against Boston ... The Bulls were without Derrick Rose (groin), but got 15 points from C.J. Watson.
WHAT IT MEANS
This one was clearly going to be difficult for the Celtics being the tail end of a back-to-back and having gone to the wire with San Antonio on Wednesday night in Boston. You could see the tired legs as the Celtics settled for countless jump shots and missed many of them (Boston shot 42.9 percent on the night, 33 of 77 overall). The Bulls cranked up their defensive intensity in the second half, allowing the Celtics a mere 37 points after the intermission. The Celtics have now lost two in a row and their Atlantic Division lead over the Philadelphia 76ers is down to one game with Sunday's head-to-head matchup looming in Boston. Before that, the Celtics trek to Indiana for another battle with an Eastern Conference playoff team when it visits the Pacers on Saturday night.