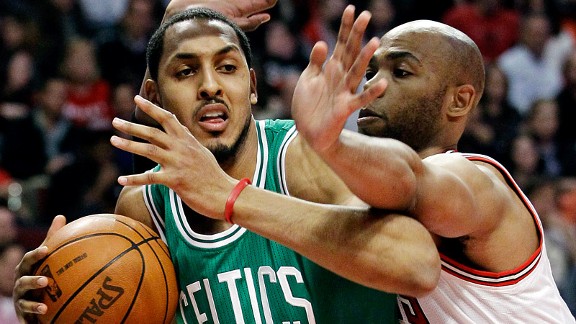 AP Photo/Nam Y. Huh
Celtics center Ryan Hollins at work Thursday night against Chicago.Kevin Garnett offered a 1-on-1 lesson to newcomer Ryan Hollins following a rare Celtics practice earlier this week. The two have been fast friends -- something Garnett admitted recently doesn't happen often for him -- first bonding during offseason workouts in Southern California and now as late-season teammates.
The fact that Garnett is willing to put in time to help a younger player develop his game isn't new. In recent seasons, Garnett could be seen spending time after practice with the likes of Semih Erden or Luke Harangody. Earlier this season we often saw Garnett tutoring JaJuan Johnson. Garnett is always eager to help, but the other player has to be receptive to his lessons (Patrick O'Bryant, for instance, is often cited as the poster child for those that tuned out and were quickly dismissed from Professor Garnett's class).
As Rivers noted earlier this week: "He [teaches] the guys he likes. He's clearly taken a liking to [Hollins]. He loves how verbal he is in practice, he thinks he has a chance to be a great pick-and-roll defender. You can actually see that. With Kevin, every new guy, he gives you about two or three chances and, if you listen and follow, he'll teach you every day. If he thinks that you're disinterested, that's probably the last lesson that you'll get, and that's probably the best lesson you'll get, too, if you're willing to figure that out.
"Like I said, he's a great teammate. That's what he does."
Rivers has often kidded Garnett about how he'd make a great coach after his playing days, but isn't sure his trademark intensity would translate to the sideline. Rivers said he's positive Garnett gives quality hands-on lessons at his position.
"Better than his coach, I can tell you that," said Rivers. "He's a terrific teacher. I kid him, he would be a great coach. But I don't know if I'd want any of that."
Hollins has plenty of room to grow. He got extended floor time in Chicago on Thursday evening, but failed to grab a rebound in 13 minutes. Even still, it's clear that Garnett likes the intangibles and believes he can get the productivity out of him through hard work.
Garnett has often gushed about the work ethic of the young players in the Celtics' locker room this season. He raves about the development of Avery Bradley, lovingly calls rookie Greg Stiemsma the "Steamboat," and clearly likes the intensity and untapped overall potential of Hollins. Rivers thinks that positive locker room vibe can translate to the court in a condensed season.
"[Garnett] does [like the young players]," said Rivers. "Our locker room is good, it's terrific. Avery, E'Twaun [Moore], JaJuan -- it's just a good, refreshing locker room. It really is, it's a fun group. When you go to practice, when you're on the bus or on the plane with them, you really like being with them. And in this year, that may correlate into wins, because this is a hard year. It really helps when you like being around guys. And I think this year, has been a terrific year in that way."