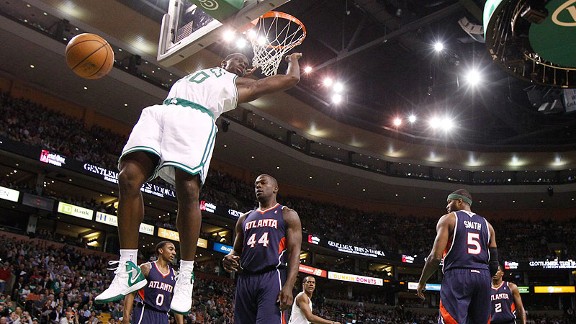 David Butler II/US Presswire
Wednesday's game was no slam dunk for Brandon Bass and the Celtics.BOSTON -- Rapid reaction after the Boston Celtics defeated the Atlanta Hawks 88-86 in overtime Wednesday evening at TD Garden:


HOW THE GAME WAS WON
Rajon Rondo messed around and produced the 19th triple-double of his career by posting 10 points, 20 assists and 10 rebounds over 47 minutes. In the interest of symmetry, it was also Rondo's 19th consecutive game with double-digit assists as well as Boston's 19th win in the second half of the season (the most in the league). Brandon Bass had an overtime injury scare, but emerged no worse for the wear while chipping in 21 points and 10 rebounds over 42:26. Kevin Garnett joined that double-double party with 22 points and 12 rebounds. Jeff Teague paced the Hawks with 21 points, while Josh Smith kicked in 20.
AIR FRANCE LANDS BACK ON THE COURT
Back in action for the first time after sitting out for 17 days with a grade III concussion suffered last month in Philadelphia, Mickael Pietrus didn't take long to shake his rust. He buried the first shot he took (a 19-foot jumper from the left baseline early in the second quarter) and finished with 3-of-5 shooting, 8 points, 6 rebounds and a block over 28:49. Celtics coach Doc Rivers said he wanted to ease Pietrus back in with 5 or 10 minutes of total playing time, but that went out the window with his inspired play.
TURNING POINT
A fast start is always key in overtime and, after winning the tap, Bass hit a jumper. The Celtics got back-to-back stops and Pierce, ice cold for much of the night, hit a curling elbow jumper for an 88-84 cushion with 3:25 to go. The Celtics wouldn't score again and didn't need to in order to escape with the win.
FREE BASKETBALL
Despite trailing for much of the middle frames, Boston surged ahead when Pietrus hit both a step-back jumper and a 3-pointer to start the fourth quarter. Garnett added a free throw after a Smith technical and Boston led 73-68 with 8:31 to go. But the Hawks wouldn't go quietly, and the lead seesawed in the final minutes of regulation. Each team had a chance to win it before the extra frame, but Garnett airballed a turnaround fadeaway with 5.9 seconds to go and Avery Bradley got a hand in the face of Jannero Pargo on his off-target jumper from the right wing at the buzzer.
BOLD PLAY OF THE GAME
Give it to the defense. Pierce might not have had his shot falling Wednesday night, but he came up with a key pickpocket of Smith in the final minute of overtime (even if it was negated by a questionable offensive foul call at the other end, giving the Hawks one last gasp). Smith again misfired, this time on a potential go-ahead 3-pointer, and Joe Johnson stepped out of bounds while hauling in the offensive rebound, allowing Boston to escape.
LOOSE BALLS
Garnett fouled out with 2:43 remaining in overtime (he logged 33:03 on the second night of a back-to-back, fouls the only thing driving that number down). ... After earning a DNP in each of the previous three games, Keyon Dooling logged some early action against the Hawks, grabbing a rebound in 3:48 to help fill the void left by Ray Allen's absence. ... Another quality night from Greg Stiemsma off the bench as he chipped in 6 points, 8 rebounds, a block and a steal over 22:02. He, too, fouled out with 40.4 seconds to go in overtime. ... The Celtics absolutely dominated on the glass, owning a 56-39 advantage overall.
WHAT IT MEANS
In a potential playoff battle -- the Celtics and Hawks are currently projected as the 4-5 matchup in the Eastern Conference) -- Wednesday's game sure had a playoff feel. Even still, the Celtics looked an awful lot like a team that engaged in a war with rival Miami 24 hours ago in South Beach, while Atlanta benefited from having had three straight off days. Boston did itself no favors by turning the ball over 23 times for 23 points. The Celtics lived to talk about it and have now won two straight. Boston gets a day off before diving into a back-to-back-to-back to start a four-game road trip. More importantly, the Celtics and Hawks have identical 34-24 records but the Celtics own the head-to-head tiebreaker, meaning they'd host a potential first-round matchup with Atlanta.