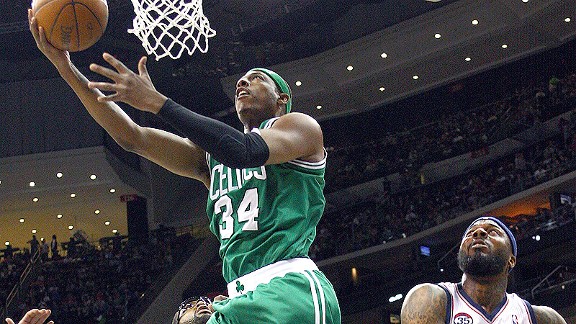 Chris Chambers/Getty Images
Celtics captain Paul Pierce drives to the basket Saturday night against the Nets.Rapid reaction after the Boston Celtics defeated the New Jersey Nets 94-82 Saturday evening at the Prudential Center:


HOW THE GAME WAS WON
Kevin Garnett scored a team-high 21 points for the Celtics, to go along with a team-high 12 rebounds. Paul Pierce added 17 points and Brandon Bass chipped in a workman-like double-double with 18 points and 11 rebounds. Avery Bradley scored 18 points on 7-of-14 shooting, ratcheting up the points in a variety of manners. Marshon Brooks scored 13 points for the Nets, while former Celtic Gerald Green chipped in a team-high 15 points off the bench.
TURNING POINT
After things were knotted up at 48 at halftime, the Celtics took control in the third quarter, outscoring New Jersey 26-13. They began the period on a 7-0 run, and after the Nets closed within six, Boston embarked on a 9-2 spurt, with all of the points coming on right-corner 3-pointers from Bradley. The nine consecutive points from Bradley produced to a 72-59 edge. The C's carried that 13-point lead into the final quarter and rolled from there.
BOLD PLAY OF THE GAME
With nine minutes to play in the third quarter, Bass rose up over New Jersey's Kris Humphries and snared an offensive rebound off a Garnett miss before pouncing right back up and throwing down a two-handed slam -- part of Boston's 7-0 run out of the locker room. Despite lacking any type of solid rebounding position, Bass took advantage of Humphries not boxing out and simply outworked him for the rebound, helping to set the tone for Boston's explosive second-half effort.
RONDO'S STREAK REMAINS
While Rajon Rondo barely managed to increase his streak of double-digit assist games on Friday night against the Raptors, he had no such trouble on Saturday, dishing out a game-high 15 helpers (to go along with 4 points and 4 rebounds), extending his streak to 21 games. Rondo recorded seven assists in the first half and fed Bradley for all three of his momentum-turning 3-pointers during the third quarter.
CELTICS POISED IN THE PAINT
A night after recording just 16 total points in the paint, the Celtics nearly doubled that total against New Jersey, finishing with 30 points down low. Most importantly, Boston built its third-quarter separation by initiating the majority of its early offense in the post. Garnett threw down a right-handed slam from Bass, followed by Bass' offensive rebound and putback over Humphries, and Rondo came through with a right side layup just a minute later.
WHAT IT MEANS
It might have taken a bit longer than some would have liked, given how disjointed the Nets seemed on offense for the majority of the evening, but the Celtics eventually pulled away for a convincing victory, helping to atone for Friday night's debacle north of the border in Toronto. Doc Rivers was able to pull Garnett and Pierce fairly early in the fourth quarter, as both clocked in right around the 30-minute mark, which could pay dividends given the final game of the dreaded back-to-back-to-back looms Sunday night in Charlotte. Every win matters for Boston right now, with the playoffs approximately two weeks away. With the win on Saturday, the C's extended their division lead over idle Philadelphia to 3½ games, further cementing their hold on the all-important fourth seed in the Eastern Conference.