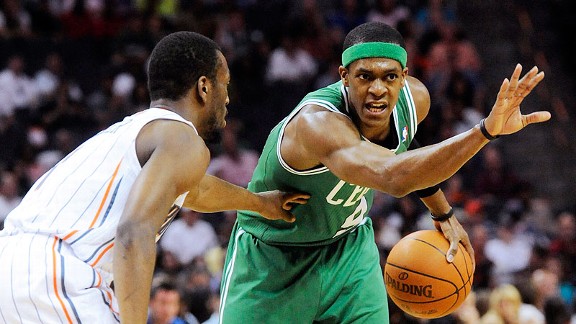 Sam Sharpe/US Presswire
Without the Big Three in Charlotte, Rajon Rondo appears to tell his teammates, 'I got this.'Rapid reaction after the Boston Celtics defeated the Charlotte Bobcats 94-82 Sunday evening at Time Warner Cable Arena:


HOW THE GAME WAS WON
Killer B's Avery Bradley and Brandon Bass each chipped in a game-high 22 points, but it was Rajon Rondo -- operating without the Big Three -- who barely left the floor (43:14) while registering 20 points, 16 assists and 6 rebounds to pace the Celtics past the hapless Bobcats. Gerald Henderson scored 22 points for the Bobcats.
TURNING POINT
When the Celtics showed up? If only that were true for Boston. Even without the Big Three, this one should have been easier than it was against the seven-win Bobcats. It was a four-point game with under six minutes to play when the Celtics got moving in transition and Rondo fed Bradley for a 3-pointer from the right corner, which is quickly becoming his sweet spot. Bass added a mid-range jumper -- speaking of sweet spot -- the next trip down and Boston led 81-74 with 5:38 to play. Mickael Pietrus added a trifecta and Rondo a driving layup as the lead ballooned to 12 soon after.
BOLD PLAY OF THE GAME
Greg Stiemsma, starting in place of Kevin Garnett, matched his career high (set in his NBA debut in New Orleans) with six blocked shots, the final of which was an emphatic denial of a driving Bismack Biyombo in the third quarter. Stiemsma even stood there mean-mugging Biyombo a bit as Bradley chased down the rebound. Biyombo did get a bit of revenge, rejecting a Bass layup attempt at the other end just seconds later. Regardless, the rejection king on this night was Stiemsma, who swatted both Biyombo and Henderson twice in the win.
RONDO'S STREAK ROLLS ON
Maybe it's perfunctory at this point, but Rondo's double-digit assist streak reached 22 games in Charlotte. Heck, Rondo had 12 points and 7 assists at the end of the first quarter. For those who wondered how Rondo would fare without the Big Three alongside, the answers was a resounding "just fine."
WHAT IT MEANS
Despite the opening night stumble in Toronto, the Celtics wrapped up their lone back-to-back-to-back of the season at 2-1 and will gladly take it. Garnett and Paul Pierce got to enjoy an extended weekend in Manhattan; Ray Allen got to rest his sore right ankle back home; and Boston emerged from the trip with a four-game lead in the Atlantic Division with a chance to essentially wrap up the No. 4 seed with a win Tuesday in New York. What's more, those pesky Raptors took down Atlanta, giving Boston a ½-game edge over the Hawks as the two jockey for the better overall record (and thus home-court advantage) in a potential 4-5 matchup between the two teams. All in all, a solid trip for Boston. The Celtics get one day to catch their breath before playing the Knicks at Madison Square Garden.