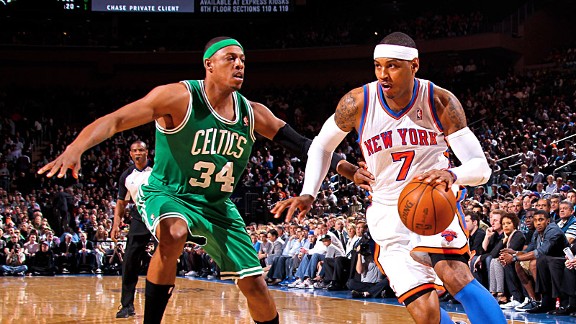 Nathaniel S. Butler/NBAE/Getty Images
Paul Pierce and Carmelo Anthony were secondary storylines on Tuesday night.The Celtics missed an opportunity to lock up the Atlantic Division title Tuesday night in New York, though they shouldn't lose too much sleep over it. The Knicks' bench tandem of Steve Novak and J.R. Smith was simply ridiculous from beyond the arc (a combined 15 of 20) and Boston can't do much more than tip its cap when an opponent shoots 57 percent overall and makes 19 triples. Heck, even Carmelo Anthony's triple-double and Paul Pierce's first regular-season 40-point effort of the Big Three era were overshadowed by New York's bench exploits.
At the end of the day, securing the division crown -- and the No. 4 seed in the Eastern Conference playoffs -- should take care of itself for Boston over the final eight days of the regular season. The Celtics do have some interesting decisions to make moving forward, most notably how much rest they can afford their players over the final four games. A few thoughts moving forward:
* The Celtics still own a 3½-game lead over the Knicks. With Philadelphia out of contention for the division title after Tuesday's loss to Indiana, Boston can lock up the crown as soon as Wednesday with a win over Orlando and a New York loss to the Nets. While the Celtics and Knicks split the head-to-head matchup this season, Boston owns a four-game cushion in conference record, the next tiebreaker. Which is to say that it would be extremely difficult for Boston to fumble away the division title.
* That said, Boston's schedule is still daunting over the final four games. There's the tail end of a back-to-back Wednesday night against the well-rested (but dinged-up) Magic at TD Garden, followed by games with playoff-bound Atlanta and Miami. Even Milwaukee's playoff dreams are still alive at the moment, which could make the regular-season finale a must-win situation for the Bucks.
* Here's the bottom line: If health trumps both seeding and home-court advantage, as Celtics coach Doc Rivers has contended recently, it might be time to start resting bodies. Both Rajon Rondo (back) and Pierce (thigh) emerged from New York a little more dinged up than they arrived. Rondo landed hard on his back chasing a rebound in the third quarter, while Pierce battled a thigh issue and appeared to aggravate a left toe injury in the first half. With Mickael Pietrus missing the game due to swelling in his right knee, the Celtics have to tread carefully with their rotation guys, and you know they'd like to get some rest for Kevin Garnett before the postseason. Sure, Ray Allen might benefit from court time after missing 11 of the last 16 games, but the C's should be careful with him with the chance of the injury becoming an issue again with heightened activity.
* Boston has an unusual opportunity to help determine its opponent in the opening round of the playoffs. Both Atlanta and Orlando, currently pegged in seeds Nos. 5 and 6, own a half-game edge on the Celtics for overall record. If Boston was willing to sacrifice the race for home-court advantage (the better overall record will determine that), the team could use the head-to-head matchups with the Hawks and Magic to alter the playoff picture. For instance, the Celtics could rest their ailing players Wednesday night when they host Orlando (giving the Magic a better chance to win that game), then go full-throttle Friday night in Atlanta. Those moves would seem to make it more likely that the Magic would shuffle up to the No. 5 seed.
* Regardless, Boston needs to downshift at some point soon. It really can't put Rondo on the floor without having to give him 30-plus minutes because of his attention to the double-digit assist streak (23 games and counting). Rondo is going to want to play most nights, but Rivers might be well-served to give him a complete night off (perhaps as early as Wednesday, though he remained undecided on that point after Tuesday's loss). With the exception of Avery Bradley, just about every one of Boston's rotation players has battled at least a minor ailment this season and down time could help them get closer to 100 percent before the playoffs start.
It all comes back to health. When Boston has its full complement of players and its stars are engaged, the Celtics are capable of hanging with anyone. But Tuesday's game showed that something as simple as a short-handed bench was enough to throw the Celtics off.
They can shrug it off in the regular season; they can't afford to do so when the playoffs arrive.