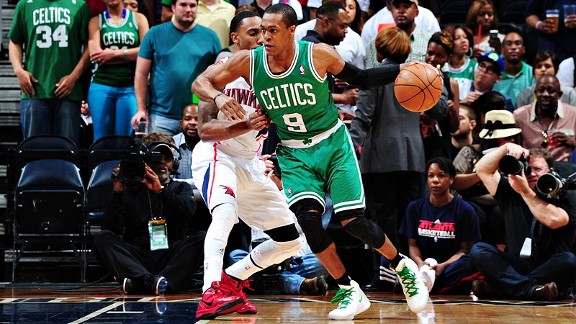 Scott Cunningham/Getty Images
Celtics guard Rajon Rondo kept his team in the game during the early going.ATLANTA -- Rapid reaction after the Atlanta Hawks defeated the Boston Celtics 83-74 in Game 1 of an Eastern Conference quarterfinal series Sunday night at Philips Arena:


HOW THE GAME WAS WON
Josh Smith posted a game-high 22 points and 18 rebounds, but it might have been the big-time shots of Kirk Hinrich (four 3-pointers, 12 points) and Jeff Teague (15 points, including some clutch late-game buckets) that propelled the Hawks. Kevin Garnett overcame early shooting woes to score 20 points (to go along with 12 rebounds), while Rajon Rondo chipped in 20 of his own (to go along with 11 assists) before he was ejected in the fourth quarter.
TURNING POINT
When Jason Collins is scoring buckets ... well, it's not a good sign if you're the opposition. Collins, who went scoreless in 19 of the 30 regular-season games he appeared in for the Hawks, got a layup with less than six minutes to go in the second quarter, putting Atlanta on top 42-25. The Celtics had previously trimmed a 17-point deficit to nine in the frame, only to see Collins and the Hawks push it to 19 with an 11-1 burst in which Boston didn't generate a field goal over a five-minute span. Collins finished with 6 points, 5 rebounds and a plus-15 in plus/minus.
BOLD PLAY OF THE GAME
The Celtics started their rally from that 19-point deficit with a late first-half burst that featured Rondo delivering a sick no-look feed to a cutting Avery Bradley for a reverse layup that made it 46-35 with 1:33 to go. Unfortunately for Boston, Bradley followed with two "cold" plays of the game, missing both a reverse layup and an open corner 3-pointer with a chance to trim the lead to single digits. Playing his first career postseason game, Bradley was 3-of-10 in the first half for eight points (he finished with 10 points).
A FORGETTABLE FIRST HALF
The Celtics shot a mere 36.6 percent (15-of-41) and missed all seven 3-pointers they hoisted before the intermission. The Hawks shot 48.8 percent and made a quartet of triples. What's more, Kevin Garnett missed six of the seven shots he took (finally rattling home a midrange jumper late in the half), while Brandon Bass didn't attempt a shot in 14:20 of floor time (settling for two free throws for his only points).
C'S MAKE A LATE CHARGE
Unable to get their deficit to single digits at any point during the middle frames, Boston (finally) got over the hump in the final quarter, charging within five on two occasions. First, the previously ice-cold Smith buried a jumper when Garnett blanketed him at the elbow, then Teague drilled a 3-pointer making it 76-68 with 3:05 to play. Unfazed, Boston got its deficit to four (78-74 with a minute to play) when Rondo lost his temper at the wrong moment.
RONDO TOSSED, BUMPS OFFICIAL
With 41 seconds to play, Rondo took umbrage with a loose-ball foul on Bass, who was trying to force a jump ball with Smith on the floor in a scramble. When referee Marc Davis whistled the call, Rondo immediately disputed the infraction, getting tagged with a technical, then appeared to bump Davis, earning a second technical and an automatic ejection. Now the league will have to determine if Rondo deserves a suspension for his actions (he was suspended two games earlier this season for throwing a ball at a game official).
ALLEN SUITS UP (NO, A REAL SUIT)
Celtics shooting guard Ray Allen sat out Sunday's Game 1 due to right ankle soreness. Doc Rivers said he remains day-to-day moving forward. Allen, who was joined by rookie forward JaJuan Johnson on the inactive list, sat on the bench in a suit alongside his teammates.
WHAT IT MEANS
The Celtics put themselves in a tough spot. Not only did they dig themselves a big hole in Game 1 (and were unable to climb out), they might have done the same with the series. Game 2 is a must-win situation -- winning four of the next five would be incredibly daunting for the often inconsistent C's -- and they might not have the services of Rondo to aid them in Game 2 after his late-game outburst. Boston certainly played better over the final three quarters, but was simply unable to overcome the damage inflicted by a hot start by the Hawks. The two sides will take a day to work out the kinks before Game 2 on Tuesday night back at Philips Arena.