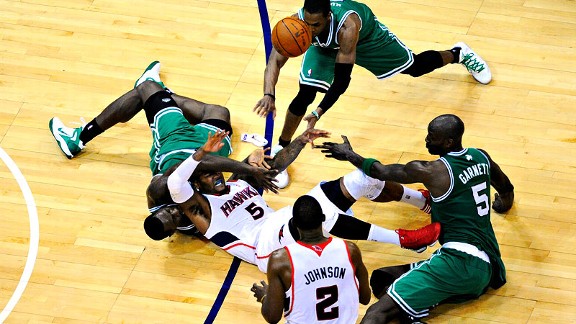 Dale Zanine/US Presswire
Atlanta's Josh Smith was in the middle of everything in Game 1, including this fateful play.ESPN.com's John Hollinger examines a monster night for Josh Smith:
Yes, the big story is that the Boston Celtics may have handed the Atlanta Hawks Game 2 by losing their minds at the end of Game 1. But before any of that happened, the Hawks had to take the opener. And take it they did, in a way that was best exemplified on the play that everyone will be replaying all week. Before Rajon Rondo lost his mind and bumped referee Marc Davis, possibly earning a suspension, the Hawks had to win a scrum for a loose ball on the floor that resulted in Brandon Bass fouling Josh Smith. Atlanta won Game 1, 83-74, by doing exactly that for 47 minutes even as their offense was stuck in a deep funk. "We wanted to win the hustle game," said Hawks coach Larry Drew, and man did they ever. The Hawks couldn't make a shot after the first quarter, but repeatedly outhustled Boston to 50-50 balls and came out with dramatically more energy. Smith was the catalyst -- "an animal," said Drew -- and his line was the end product of a classic Josh Smith night.
Hop HERE to read the full story.