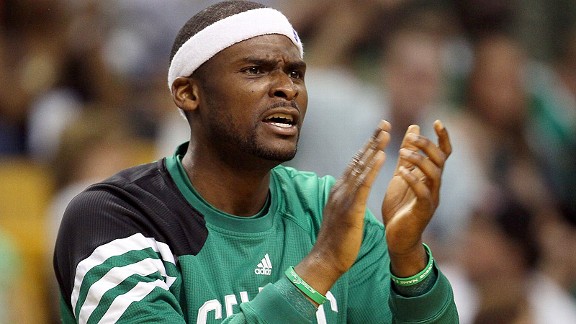 Elsa/Getty Images
Celtics reserve guard Keyon Dooling offers support to his teammates from the sideline.BOSTON -- You might have spotted Celtics reserves Keyon Dooling and Marquis Daniels offering some emphatic sideline support this season. It seems to have been magnified in the postseason as TV broadcasts often have showed them doing some sort of two-armed fist-pump to celebrate a Boston run.
"We've been doing that throughout the course of the season, it's just magnified throughout the playoffs," Dooling said. "It's something that kind of gets us going. We put two fists in the air and kind of pump our fists a little bit -- just something to let our guys know that we are cheering for them, we're rooting for them. We've got their back."
After Boston's Game 1 triumph over the Philadelphia 76ers in the Eastern Conference semifinals Saturday night at TD Garden, a reporter suggested that it looked like the players were doing chin-ups, Dooling chuckled.
"Well, if you've seen my body, you'd know I haven't done too many chin-ups," he deadpanned.
Dooling admits the celebration could use a name. Someone asked Daniels about it on Twitter a couple of days back and he said simply it was a, "Florida thang," a reference to how Dooling (Fort Lauderdale) and Daniels (Orlando) are both natives of the Sunshine State. (Maybe that would be a good name for the celebration?)
Dooling said to ask about a name again down the road.
"What we're going to do is we're going to decide on the name and you can ask me next time," he said.
Your turn: Got a good name for the sideline celebration? Sound off in the comments.
Update, 9:42 p.m.: Well, go ahead and close the ballot box...