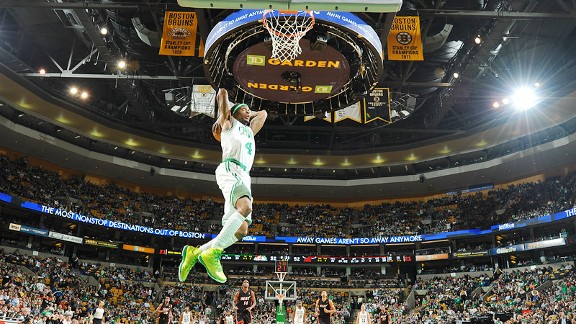 Brian Babineau/NBAE/Getty Images
It's gotta be the (neon) shoes: Marquis Daniels skies for a slam this season.Over the three weeks leading up to the start of the new league year on July 1, we'll take a player-by-player look at the Celtics' 2011-12 roster and how each player's season unfolded, assigning a grade for their overall performance. This is the fourth in the series of report cards:
Player: Marquis Daniels
2011-12 averages: 3.2 ppg, 1.7 rpg, 1.2 apg, 12.7 mpg
2011-12 salary: $1.2 million
Season in a paragraph: After his 2010-11 season ended with a frightening spine injury, Daniels underwent surgery and made a rather remarkable return to action this season. Alas, Daniels never really found his old form and, unable to consistently win the confidence of coach Doc Rivers, a common thread in three seasons in Boston, he played only a minor on-court role. It should be noted, however, that Daniels quietly remained a solid teammate, joining forces with Keyon Dooling and "Flexin" his way through the playoffs.
Season highlight: Rivers played a hunch in Game 3 of the Eastern Conference finals against the Miami Heat, giving Daniels 17 minutes of floor time in a must-win situation, and he responded with nine points (on 4-of-6 shooting) and five rebounds (then landed at the postgame podium to explain a big night that aided a 101-91 triumph). If Daniels could consistently provide that sort of spark, he'd be a rotation player on any team in the league given his size and defensive abilities.
Season lowlight: Daniels dealt with sporadic floor time, logging a whopping 28 DNPs while appearing in only 38 regular-season games. A span from early February into March might have been the hardest to endure, as he sat out 11 of 16 games (and logged a mere 29 minutes in those other five games). Daniels struggled to finish around the basket at times this season and confidence, again, seemed to be the issue (in his own play, and that of Rivers in him).
Final grade: D+
Teacher's notes: In a way, we feel like we're being harsh given that Daniels was coming off a pretty scary injury and expectations were probably low to begin with. Offensively, Daniels was hard to watch. According to Synergy Sports data, he scored 121 points on 180 possessions (0.672 points per play, shooting just 36.2 percent), which ranked him in the ninth percentile among all NBA players. Defensively, he wasn't quite the lockdown defender he had been during the 2010-11 season, but he was solid, allowing a mere 0.775 points per play (81st percentile, according to Synergy). Here's the thing: When Daniels played well, it left you yearning for more, and wondering why he couldn't consistently do that. But he never gave Rivers a reason to give him consistent time and that's reflected in his grade.
What's next?: After three one-year deals (and three different jersey numbers), this is probably the end of the Marquis Daniels era in Boston, particularly if the team brings back Mickael Pietrus, another defensive-minded wing. Daniels has value and could thrive in the right situation. It just doesn't seem like it can consistently happen in Boston. His defense can help a team and he still has occasional bursts of offense triggered when he's an active cutter.
Honor roll: Click HERE to read past report cards.
Don't agree with teacher? Just want to sound off on Daniels' 2011-12 season? Leave your thoughts in the comments section.