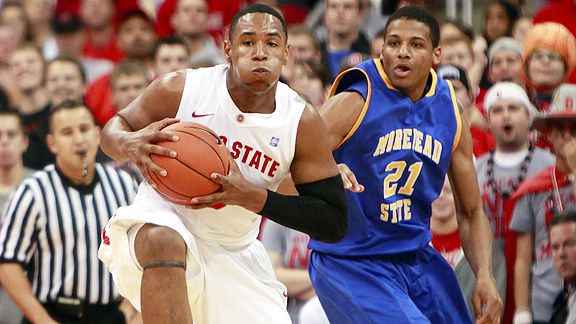 AP Photo/Terry Gilliam
The Celtics selected Ohio State's Jared Sullinger with the No. 21 pick.BOSTON -- Rapid reaction after the Celtics beefed up their size, but rolled the dice after selecting Ohio State's Jared Sullinger and Syracuse's Fab Melo with the Nos. 21 and 22 picks in Thursday's 2012 NBA draft.
Many thought Sulllinger would have been a high lottery pick if he had come out after his freshman season. Instead, he returned to Ohio State and battled back issues that forced his draft stock to plummet recently. When healthy, Sullinger might be one of the best low-post players in the draft. Despite his back issues, Sullinger ranked in the 87th percentile among all NCAA Division 1 players, averaging 1.052 points per play last season, according to Synergy Sports data. Nearly half of his offense came in post-up situations, but he's also a solid cutter and, while his game isn't above the rim, he can put back misses (12.7 percent of his offense last season, second only to post-up situations). Defensively, he graded out as "very good" by Synergy metrics, allowing 0.713 points per play (and would only benefit from sharing the floor with the likes of Kevin Garnett). He needs to beef up his post defense.
The question marks about Melo surround his academic woes that left him disqualified for the NCAA tournament. But there's no denying his pure size. He'll be more of a project, and the team will have to craft his work ethic. According to Synergy, Melo averaged 0.978 points per play on offense (78th percentile) and thrived as a cutter. Defensively, Melo allowed a mere 0.593 points per play, ranking in the 89th percentile overall, and he was particularly stout in the post (98th percentile).
One thing to keep in mind: The Celtics pounced when Avery Bradley slid down the draft board two years ago due to an ankle injury suffered in a draft workout. Boston wouldn't mind if history repeated itself with Sullinger and Melo, who both seemingly had lottery potential at one time or another.
Iowa State's Royce White, who some speculated had a promise from the Celtics to be drafted no later than No. 21, went to the Houston Rockets at No. 16. St. Bonaventure's Andrew Nicholson, another name often rumored to interest Boston, went to Orlando at No. 19.