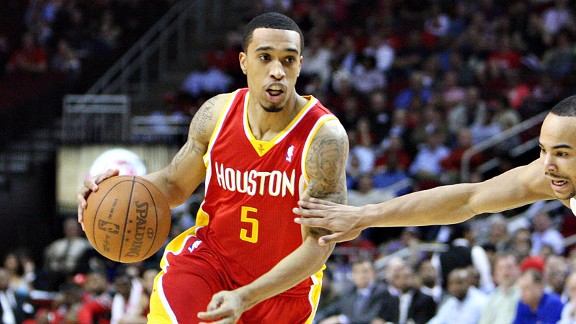 Thomas Campbell/US Presswire
If the Celtics want Courtney Lee in Boston, he's going to have to sacrifice a bit.The Celtics want free agent guard Courtney Lee; Lee is intrigued by Boston. So how can the two sides facilitate a deal? Not to temper the enthusiasm, but it won't be easy. A few thoughts on what the two sides could do:
OPTION 1: FREE AGENT SIGNING
By far the easiest route is for the Celtics to convince Lee to take a pay cut and sign via the biannual exception -- Boston's only remaining chip above a minimum contract to offer outside free agents. As we detailed this past weekend, the Celtics could make a pitch leaning heavy on the fact that Avery Bradley might not be ready for the start of the season and Lee would be the starting shooting guard on a contending team. With the exception, the Celtics could offer a one-year, $1.975 million contract (or a two-year deal with a maximim value of $4.1 million).
For Lee, who had been looking at a $4.4 million qualifying offer from Houston before it was rescinded, would almost certainly be giving up millions on the open market, but could roll the dice on a short-term deal that could increase his value next offseason. The likelihood? Cash often wins out with younger players and it's hard to imagine a 26-year-old taking a hefty discount to chase a title (only veterans that have had their payday leave money on the table -- right, Ray Allen?)
OPTION 2: SIGN-AND-TRADE
The Houston Rockets own Lee's Bird rights and could help drive up his salary number as part of a sign-and-trade. Heck, Lee himself admitted this might be the best avenue when he popped into the Orlando Summer League on Monday, noting how Houston loves to stockpile draft picks.
Here's the problem: Draft picks are worthless in trades (literally, they have $0 value). So the Celtics still have to find a way to match the numbers in any new deal that Lee inked. As a team under the luxury tax threshold, the Celtics do get a slight benefit and can accept up to 150 percent (plus $100,000) of outgoing salary. So let's hypothetically say Lee signs at $3 million next season, Boston still has to cobble together around $1.9 million in salary to ship out -- along with future draft picks -- to entice Houston to aid the deal.
Encouraging right? Oh, if only it were that easy.
First, hop over to the Trade Machine and take a look at what Boston has available for tradable assets. Of the nine players officially under contract for next season, three are rookies who cannot immediately be dealt. Three others are starters (Rajon Rondo, Paul Pierce, Avery Bradley) that the Celtics would have no interest moving. What's left is a combination of summer leaguers JaJuan Johnson, E'Twaun Moore, and Sean Williams. All combined, the three provide $2.8 million in salary. But the question becomes 1) Are the Celtics willing to part with any combination of them? and 2) Would another want them considering their limited roles?
The Celtics could also facilitate a sign-and-trade by signing one of their remaining free agents, using their rights to the likes of Mickael Pietrus or Keyon Dooling to work a deal. Here's the hitch: Any sign-and-trade deal has to be a minimum of three seasons. That means that Lee would likely be taking less than market value and wouldn't have the opportunity for another payday for some time (though only the first year of a deal has to be guaranteed).
Summary: Lee suggested Monday that more than eight teams are interested in his services and you can't help but assume that some of those teams can offer either more money or a better package to entice Houston into a sign-and-trade (which clearly benefits both Houston and Lee). In the end, the Celtics have to hope that role, opportunity to win, and tradition are more important to Lee than salary. Boston busted out its biggest free agent chip Saturday when coach Doc Rivers met with Lee. Now the market might dictate how his decision plays out.
Alright, armchair GMs, your turn. If you've got an idea on a deal that could bring Lee to Boston, sound off in the comments.