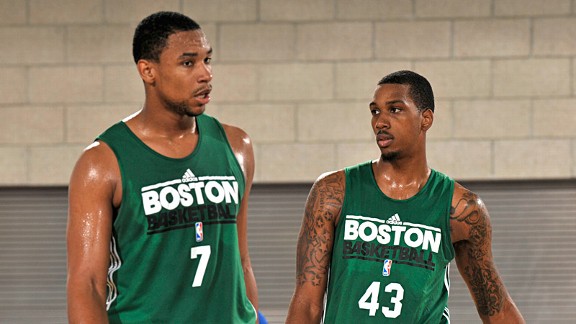 Fernando Medina/NBAE/Getty Images
Celtics rookies Jared Sullinger (7) and Kris Joseph (43) at Orlando Summer League.ORLANDO, Fla. -- Rapid reaction after the Boston Celtics defeated the Brooklyn Nets 82-73 in Day 2 of the Orlando Summer League at the Amway Center.


HOW THE GAME WAS WON
Jonathan Gibson scored 15 of his game-high 17 points in the fourth quarter, making all four shots he took to fuel a late rally. E'Twaun Moore added 15 points on 5-of-12 shooting with four assists and five rebounds, and Jared Sullinger kicked in 8 points and a team-high 12 rebounds. Al Thornton paced Brooklyn with a team-high 16 points.
BOLD PLAY OF THE GAME
With the Celtics up two with under three minutes to play, Gibson tipped a bad inbounds pass from Adam Morrison, then chased down the loose ball going the other way. He keenly dished the ball back to a trailing Dionte Christmas for a layup and a 73-69 lead. Gibson followed by draining a 3-pointer that sealed the win.
ROOKIES JUMP INTO THE STARTING LINEUP
The Celtics tweaked their starting lineup for Game 2. A day after not starting any rookies, first-year forwards Sullinger and Kris Joseph moved into a starting lineup alongside Christmas, Moore and JaJuan Johnson. Rookie Fab Melo was the first big off the bench.
A FORGETTABLE SECOND QUARTER
The Celtics mustered only two buckets in the second frame (3-pointers for Christmas and Moore) and a mere seven points total. Despite leading by six after the first frame (24-18), Boston was down 14 at the intermission (45-31). The Celtics shot a cringe-worthy 30.8 percent in the first half overall (12-of-39 overall; 2-of-11 beyond the 3-point arc). Fortunately for them, Gibson and Jamar Smith provided an unforeseen spark in the second half.
SOLID THIRD FOR SMITH
Smith, a former camp invitee who spent time with the Maine Red Claws, lit Boston's second-half fuse. While serving as backup point guard, he scored eight points on 3-of-5 shooting (hitting a pair of 3-pointers) as Boston trimmed its deficit to 59-52 heading to the final frame, where he handed the baton to Gibson ...
GIBSON RALLIES C'S IN FOURTH
Gibson, who struggled with his shot through the first seven quarters of the summer, showcased his offense in the fourth quarter on Tuesday. He made a trio of shots, including a pair of 3-pointers, in the first five minutes as Boston made it a one-possession game.
LOOSE BALLS: SULLINGER CAN PASS THE ROCK
Sullinger appears to be a solid interior passer, able to draw attention and then kick to an open cutter. ... Sullinger also muscled in some tough baskets around the hoop (this despite struggling early at times against a true 7-footer in Brooklyn's Jeff Foote). ... Johnson shot the elbow jumper well and finished with 8 points (but was quiet on the glass). ... Johnson also took a hard fall in the fourth quarter, but bounced back up.
WHAT'S NEXT?
After working the late shift Tuesday (the final of four games), the Celtics kick off Wednesday's action when they joust with Indiana at 11 a.m. It's actually brunch-ball the rest of the week for Boston (11 a.m. Thursday vs. Detroit and 10 a.m. Friday vs. Orlando), before the scene shifts to Las Vegas for five games next week.