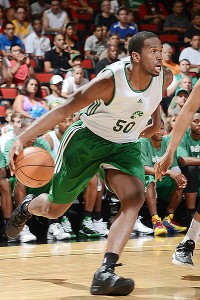 Garrett W. Ellwood/NBAE/Getty
Dionte Christmas is making a strong case to stick around with the Celtics.LAS VEGAS -- Dionte Christmas' goal of making it to the NBA next season -- his preference with the Boston Celtics -- is being tested by a number of enticing offers from different European teams.
Christmas, who has played overseas for the vast majority of the past three seasons, has impressed this week, averaging 16.3 points, 4.5 rebounds and 2.3 assists per game in Vegas, on top of shooting 50 percent from the field and 47.1 percent from 3-point nation. But Christmas appears to be holding out for some sort of guaranteed contract from Boston, and in the meantime, he hasn't been able to ignore the generous offers being floated to him by clubs overseas.
"A lot of overseas teams have been contacting me, just throwing out some crazy numbers," Christmas said on Saturday. "They're making it hard for me and hard for my agent, so we'll see. I would just wait until the end of summer league and just try to continue to play hard, and hopefully [the Celtics] like it."
Christmas said on Thursday that he hoped to have a clearer picture for his future by the weekend, but as of Saturday there was no significant progress, apart from the numerous offers from Europe. He admitted the initial talks with Europe were certainly tempting, but a conversation with his father on Friday night reaffirmed his desire to finally make the jump to the NBA.
"Coming from where I came from and grinding, playing for lower teams for a little bit of money to getting [significant] offers, it's tough to ignore that," Christmas explained. "But at the end of the day, I had a long talk with my dad [on Friday] night, and he's like my brother, one of the guys I go to when I'm feeling like I need someone to talk to about my situation. He just said, 'Chase your dream. You know, you got this far. Why stop here?' That's all I really needed, was for him to say that, and I'm just waiting for the right offer from an NBA team and I'm going to go for it."
There's little more Christmas could have accomplished on the floor this week, as he showed Boston -- and any other teams watching -- that he has the ability to impact a game in virtually every area. C's summer league coach Tyronn Lue has praised Christmas all week for his willingness to defend the opposing team's best player, which only bolsters an already beefed-up resume highlighted by consistent numbers across the board.
"I think my chances [of playing in the NBA next season] are as good as anybody out here," Christmas said. "If not this year, man, then when? I've played my heart out, I've given blood, sweat and tears. I've given the Celtics everything I've had in these past two weeks and hopefully they see that. Hopefully everybody else in the league sees that, GMs, and hopefully I can be on somebody's NBA roster this year."