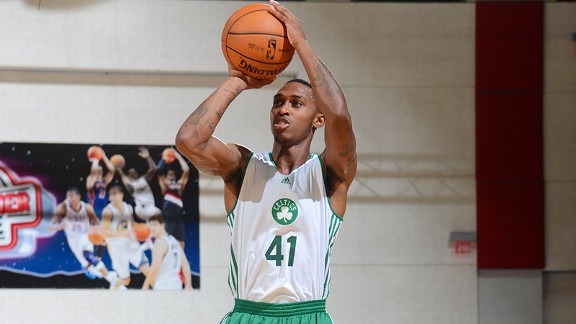 Garrett W. Ellwood/NBAE/Getty Images
Jamar Smith is headed to camp with the Boston Celtics after a strong summer performance.The salary wizards at ShamSports.com have started posting the details of the contracts inked by Celtics players this offseason. One of the more interesting of the early batch is the contract of training camp invitee Jamar Smith.
According to the site, Smith signed a two-year, minimum-salary contract. The first year is $25,000 guaranteed, becoming fully guaranteed ($473,604) if not waived on or before Nov. 15. The second year is fully non-guaranteed, becoming fully guaranteed ($788,872) if not waived by June 30, 2013.
Forsberg's reaction: Smith faces an uphill battle for a roster spot, particularly amidst news that Keyon Dooling is on his way back next season, adding yet another layer of depth to the guard position. With the partial guarantee, the Celtics essentially ensure Smith a modest payday ($25,000) and a chance to compete for a roster spot. Even if he doesn't make the regular-season roster, Smith could be a prime candidate for a spot with the now Celtics-controlled Maine Red Claws of the NBA D-League (keeping him in Boston's now streamlined system and making him an option for an emergency in-season call-up to the parent squad).
Maybe more interesting is whether Dionte Christmas, the team's other summer standout, inked a similar contract, or whether his guarantee is a little bit more (potentially giving him the inside track in the competition for a final roster spot). Christmas had some lucrative overseas offers and the Celtics may have had to guarantee a bit more in order to bring him to camp. We'll circle back once his contract details are available.
Second-round draft pick Kris Joseph's two-year deal is fully non-guaranteed, but he might have showed enough this summer to put a strong grip on a regular-season roster spot. The Celtics now have 13 guaranteed contracts with Tuesday's addition of Dooling, while Smith, Christmas, and Joseph will comprise a group of players vying for two open roster spots at camp (barring any further moves by the Celtics).